REMINDER: DUES ARE DUE BY MARCH 1ST AND VERY MUCH APPRECIATED!

It's time to update your information and pay 2021 dues for the Photography Club of Cape May. We usually collect dues at meetings between now and March 1st, but due to COVID 19, AGAIN we must make some changes. I'm still paying to use the clubhouse, pay speakers, and Zoom Workshop Leaders. And for Zoom membership itself. So please help keep us able to stay connected and learning. We will in time be able to gather and enjoy the companionship for which our club is so well known. Hopefully by this summer we'll be able to go out on photo shoots together and exhibit. It's coming!

Please check your contact information in our membership list you received last year. If you've had any changes, send them along with your check or email me separately. Important to keep that up to date. Mobile phone number is helpful for quick notices.




Please make your check ($30- $50 per couple) out to Photography Club of Cape May and send check to:

Dottie Rogers

201 South Broadway

Cape May, NJ 08204
January 14, 2021
THANK YOU JOHN KAPUSNICK FOR THE OUTSTANDING ZOOM MEETING LAST NIGHT AND THE INFORMATION YOU SHARED WITH US ALL!!
We had 26 attend and good questions from the group. Now we need to practice and make a folder of SKIES! We learned to appreciate the word "Texture" and color grading, raw and maybe Bridge for sharing our pictures in the order we like. Good discussion. Thank you to all who attended. I wish I could pass the information on to those who did not attend, but it was a time when you needed to see what John did that mattered. And he promised to hold an in-person with our laptops meeting when COVID allows us. That would be helpful as well. Thank you, John. IT WAS FUN.
Next month "5 pictures that tell a story". I'll forward you a book to read (quick run through easy) and an article about one picture, one story.
January 11, 2021
HAPPY NEW YEAR TO ALL CLUB MEMBERS AND FRIENDS!
GOTTA BE BETTER THAN 2020, SO LET'S DO IT!
This is a reminder that our next Zoom Meeting is Weds., January 13th, at 7:00pm.
There have been lots of changes lately in Lightroom and Photoshop and probably all of our processing software and John Kapusnick will "show some features of camera raw. I will be using photoshop but the camera raw is identical in Lightroom. I will be showing how to change saturation or luminance of a single color rather than globally, some quick shortcuts to start processing your image, tips on improving sharpness, some uses of the adjustment brush to fine tune a photo, and will try to answer any questions. I also plan to show some part of photoshop layers and give an introduction to bridge. Everyone who has the web based Lightroom also has photoshop and bridge. If we all start using bridge, each person will be able to share their photos from their computer, controlling the order and length of time the photo is shown."
And on January 27th we will share pictures. The topic is "WINTERSCAPES"
December 6, 2020
So we had a nice time Wednesday, Dec 2nd at our Zoom Meeting. 20 people came. That's great! Thanks for coming and thank you to those who participated in our Challenge. It was a hard one. The Topic was "2/ or Double". I'm going to share a few examples via email and Facebook. Such a creative show, each person with a different twist or style. Generated good questions and answers. A learning experience as well.
First let me tell you what we discussed in the business meeting we always have first, before we share pictures. I'm in the process of lining up Zoom speakers and workshops for at least the first half of 2021. We'll have a Hunts Photo (not free) talk, I asked for January 13th. And they would like at least 40 (preferably 50 actually) people to attend, so once I know the topic we can get (I chose 3) I'll invite several clubs. That's the way we all should be doing this. It's a game really, this COVID time. Called SURVIVAL. It gets expensive and we need to share. It's a good thing really. We need stimulation and variety, and Zoom is safe. The problem is not every one likes to Zoom, although I can't understand that. But we see each other, we share pictures we never have a chance to share with regular meetings, and we have a challenge to produce. I like to get new pictures if I can, some go into their archives. No matter. It is creative, and the questions and chatter are inspiring and a learning experience often. Try it, You might like it!!
Thank you for sharing and commenting on your work John Kapusnick, LuAnne Daniels, Anne Harlan,Richard Zickerman, Mary Scarpetta, Allison Kashon.Jimm Ross, Eloise Boccella, Debra Wallace and Moi.
I've also contacted Gary Friedman from California. He's editor of a new magazine that is not pushing expensive equipment, but the basics of photography. He feels it's not the equipment that makes good photographs, but knowledge about composition, light, mindset, backstory, emotion, etc. I'm waiting to jell Hunts Photo, then find a date for Gary and his Zoom presentation. I think we need a speaker or workshop, and right now it has to be via Zoom, every other month. We'll also continue a night of sharing our pictures with a theme. John Kapusnick has agree to share some things he's learned with the newest version of Photoshop including changing the sky and in Lightroom working with color.
The PCCM Board has suggested several things, including taking our Street Photography to different places. Capturing different cities, and Eloise offered Swarthmore with home base being her condo-when the Covid scare is passed, Winterscapes for January or February, Another Question and Answer Zoom night, Macro without a Macro Lens, Black and White, and Telling a story with 5 pictures-only 5. Someone also suggested a workshop on using the iPhone and Smartphone. We've toyed with that for several years and I never thought we had enough users to make it worthwhile or who would listen, but now we're all using them and it's time. Remember Tony Sweet wanted to do that long ago.
On December 15th, We'll have our Last Zoom Meting of 2020 at 7:00pm. The Topic or Theme is "Lights/Light/ Illuminate"
And if the weather looks good we'll call for a shoot of the lights in Cape May. There's lots to see and snap.
Be safe, stay warm and keep shooting,
Dottie
November 21, 2020
So we had another really fantastic Zoom Meeting last Monday night. Everyone found the most exciting and delicious examples of ABANDONED and EMPTY you can imagine. Every person who participated told wonderful stories about each photo. Outstanding Composition, Subject Mater so unusual and beautiful, color, black and white, local, exotic, archived or new, WE NAILED IT! this time folks. Some old structures are absolutely beautiful and intriguing. Wall hangers for sure! The greenery and blue sky, plus mystery of some and some historically significant as well. Thanks everyone who made the effort to share your hidden treasures. Allie and I are going out to hunt a few abandoned type soon. You are welcome to join us.
On to the next Zoom which will be Weds. December 2nd. Topic: "2/Double" Hard to believe it will be December already! I wish we could somehow share the images from Zoom With you on Facebook. Technically not able. Gotta be there to appreciate because the chatter is wonderful as well.
A couple Christmasy type things you might look in to. We always do something together, but this year looks like we can't
because of the crowds and COVID. But on your own or with a friend look for:
Anyone want to illustrate a Christmas Song and play it at a Zoom Meeting?
You could read the song or play music possibly while your pictures run by….
Cape May NEW THIS YEAR- Photo Op for sure.
A contest for decorations in town.
Best Residence
Best Business
Best Window
Best Olde Fashioned Display.
Judges Choice and Peoples Choice and Prizes
12 Days of Christmas Cape May Walking tour (Self directed)
Looking for symbols that will be announced and placed in December.
The idea is to take a picture of each symbol and place where you find it
Post on Facebook as I understand it, and there will be prizes. I'll keep you
informed as this develops and is advertised.
Looks like Tree Lighting ceremonies will be held. Outside for the most part. And
limited numbers, so if you see one and want to go, (at the Physic Estate for example)
get you reservations in quickly. Limited space! But the wandering and capturing of
lights and decorations is not limited in any way. Stay masked and safe distanced! Enjoy!
DOTTIE
November 9, 2020

We had a great time wandering around Stan Sperlak's farm last week. It's called Crow's Creek Farm. A very large property with many trails, and many sculptures. The landscape itself is a sculpture.
Nine members were there and we agreed it was Covid safe. Lots of room to spread out. And we agreed we'd go back on our own to cover more of the trails.
Pictures will be posted, I'm sure. Many are on Facebook already. I'll share them in a few days. Thanks for coming everyone. Lovely experience. And so good to see a few familiar faces.
P.S. (It is very hard place to find. GPS was not helpful for most of us. Ask someone who went before you venture there.)
Dottie
October 29, 2020

Wow, what a wonderful variety of pictures we saw last night in our Zoom Meeting. And we obviously learned a lot from Valerie Jardin's talk on Street Photography. I was amazed to see pictures from New York's Chinatown, West Chester, Whale of a Day in Town Bank, the Cape May Ferry, the Mall in CM and a variety of super well done studies several of other places. People work hard and have fun putting images together. Some old, some new. I'm sorry if you missed it. Next time maybe. Much better than any TV show you would watch at that time. And nice to support members who go to the trouble. We should have 25 people at every Zoom Meeting! You don't have to have an entry, just come and enjoy and learn from what other members have put together. Thank you Anne Harley, Bob Finlay, Eloise Boccella, Jimm Ross, LuAnn Daniels, Rich Zickerman,
John Kapusnick, Moi (and Gail Van Scoyk with a few from afar) for your participating so beautifully!
Next Zoom meeting the theme for our photo share is "Abandoned or Empty." Feel free to interpret any way you like! That's November 11th at 7pm. Also keep an eye on your email for a possible photo walk in the Woodbine/Belleplain Park area to catch the last of the Fall colors.
Dottie
October 27, 2020

So we had 15 or so at our meeting last Wednesday night. Questions varied greatly.
A discussion on selling art on line brought suggestions like Fine Art America, Personal Websites set up for selling and creating Galleries with the idea of selling your work, Shutterstock, and Smugmug, etc.
Creating your own Website brought questions about the complexity and which program was easier. Smugmug was discussed, pros and cons.
Lots of questions about Photoshop and John Kapusnick has volunteered to present a few basic classes through Zoom that may help. Photoshop Enrichment classes maybe as well for those more advanced. We may run another Lightroom class as well. Bob Finlay offered to do that. Maybe online. Maybe in my dining room. We'll work on that.
Dottie asked about controlling or working with color in pictures. (when Lightroom or normal controls don't seem to work.) John suggested color mixer in Lightroom and Photoshop. That led to Bob showing us a Book (Bible) he has by Victoria Bampton- Lightroom Queen! that answers almost all the questions we have about Lightroom. A new version is going to surface soon.
Using NIK software or other plugins for Photoshop or Lightroom to process your pictures brought questions.
Questions on syncing and Photoshop/Lightroom. Bob said pictures need to be in a collection (in Lightroom) to sync. People noticed that being a problem after the latest upgrade for some.
So….We all have questions it would be fun to talk about. Send me any question you personally have and maybe would like an evening devoted to that specific area of Photography. We'll see what we can do to make that happen.
Next Zoom meeting on Wednesday October 28 at 7pm where we'll be photo sharing our street photography. See you then.
Dottie
October 6, 2020
Hi All,
Valerie Jardin was great. I was cut off because one administrator is allowed and when she started to talk I disappeared, but found it again on my iPad. Interesting. It was recorded and she sent a link so you can look at it that way or look at it again as many times as you'd like. Her work is great! and we can do this!
Thanks for coming everyone. We had a very good turn out.
There are THREE Zoom meetings scheduled for October. Two are photo shares and the third a Q&A for any and all photography questions you may have. Check our calendar here. Be sure to check your email often for any updates.
Dottie
June 25, 2020
A Big Hello! to Everyone!
PCCM is going to meet at the Ocean City Rookery Friday, June 26th at 7:30am to shoot the birds and families at the Rookery. That is located at the Visitor's Center right in the middle of the bridge. The Address is 300 West 9th Street, Ocean City. Be there at 7:30am with any lens that can catch birds nicely, if you have long lenses like 200, 300 or 600mm, bring them but the rookery is quite close to where we stand. Bring a stool as well if you have a small one. There is a rather tall railing to shoot over. This is a breezy, sunny spot, lots of room and lots to see.
So Friday, June 25th, 7:30 at the Ocean City Rookery.
Meanwhile FYI, our Zoom meetings continue. Please join us. The photograhy we are seeing and sharing is wonderful. And we love the variety, the different interpretations of the theme each time. Each person sees the world in a unique way. Amazingly very different from one another.
Next Zoom meeting, July 15th, 7:00pm. Watch your email for the Zoom Invitation. The theme is Nature "Redux" which is a pretty broad area. New photos or something from your archive. No prizes, no judges, just enjoying and learning from each others photographs. Email your photos to Dottie Rogers in advance please.
I'm going to plan a garden walk soon. A shoot of some Cape May yards that will WOW you. Watch for that announcement!
Dottie
May 19, 2020
I wanted to share a few thoughts about the club as we continue to navigate through this pandemic. I hope you and your families are well and active.
The club is moving along nicely. Thank Goodness for our Facebook Page and our Zoom Meetings. We have been active on Zoom and we are, in fact, having fun.
I think it's interesting that we feel we are are getting to know each other in a very different way. We show pictures on a theme, but also chat and comment and had Tony Sweet as a speaker, so we are learning and stretching our creativity in different ways as well.
We've gotten some new members even now, so welcome and enjoy the comeraderie and please voice your interests and opinions. We value new ideas and enthusiasm new members bring to our group.
Last night at our Zoom Meeting the theme was Flowers with a Tony Sweet Twist.
Next Zoom Meeting, by popular demand is,
Wednesday,
May 27th, 7:00pm. Topic: Things that Move YOU.
Stay safe and we'll see you then,
Dottie
May 6, 2020
Hope you and your loved ones are well and bearing up with the isolation. We've had three online meetings via Zoom since the corona virus has kept us home and they have been great fun! We've shared and enjoyed each others' photos and Rob Stambaugh gave a wonderful presentation on how he gets his amazing bird photos. Rob has shared his Powerpoint slides with the club so check your email for the pdf file. Lots of great info there and some beautiful photos from all over the world. Thanks Rob!
Very Exciting news for Photography Club of Cape May!
I have scheduled Tony Sweet to be with our club on Monday, May 11th at 6:30pm via Zoom. The topic will be Flower Photography and Close Up Artistry. This is a 90 minute workshop (plus or minus a few minutes because there will be time for questions) Dues Paying Members will get a Zoom Invitation to join. We are limited to 50 people. So mark your calendars. Tony is always entertaining, so skilled as an educator, his images blow us away, and he's eager to share.
PS for newbies-if you are not familiar with Tony Sweet, Nikon Legend Behind the Lens, go to his website or just Google Tony Sweet.
(Please be sure your dues are paid for 2020. We need your support and we do a lot of good things as a club. And we want you to benefit from meetings like this!)
If you have any ideas for more online meetings or themes for photo sharing Speak Up! Smaller groups on specific topics or special interests would also be be great online.
Stay safe and keep shooting!
Dottie
April 9, 2020
During the time the club cannot get together face to face because of the necessity for social distancing, we will be launching a series of Zoom Meetings online. You can join in using your computer, iPad, or smartphone. The software is free and pretty simple to use. Check the Zoom website for more information.
Each Weds evening at 7:00pm we will connect on Zoom.us and show pictures having a different theme each time. We may try other kinds of meetings like discussing something related to photography or having a speaker or demonstration or challenge. This concept of online meetings is new to most of us and quickly evolving. We've done very well so far but as we get better perhaps we'll come up more ideas. Hopefully the pandemic will not last long! Meanwhile it is a good way to keep our spirits up, keep our creative juices moving and interact with our photography friends.
Here's a photo of how we looked in our first Zoom online meeting.
All Dues Paying Members of the Photography Club of Cape May will receive an invitation to join the meetings via email. Within the email just click the URL Zoom link which automatically connects and enables you to participate. Watch your email for announcements of the topics for each week and hop on board! Here's the next one:
Zoom Meeting Weds. April 15, 7:00pm
Will Show and Discuss Pictures Provided by PCCM Members
Topic: "Even COVID19 Can't Stop Spring"
All DPM Invited to attend
So go dig out or make a few new photos and email them to Dottie for the next the next meeting.

Stay safe, be well and take care,
Dottie
March 16, 2020
Dear Members….
The Board has been communicating this week and we feel the following changes in our schedule are needed at this time. Please absorb the following changes in our 2020 activity schedule. We will reschedule after things seem under control
The Shoot at Cape Winds Flower Shop on Wednesday, March 18th is cancelled. We will reschedule maybe this summer with an outdoor event we talked about. Tom Dolan suggested we get/buy a flower and take pictures ourselves and post themon our Facebook Page. Challenge #1.
The March meeting with Speaker Kenneth Holding on April 6th is cancelled. We will reschedule his visit. Date TBA
Field Trip to Holland Ridge Farm cancelled. That Event may itself be cancelled. It gathers thousands of people on weekends.
And I think I'll cancel the May 4th Meeting with David Luria from Washington, DC. (and his shoot the next morning at Congress Hall)
He has been in contact and seems concerned and I don't think our usual number of members will attend. He's a big name and cancelling his own events. I don't believe Congress Hall will want us wandering around their social spaces taking pictures. I will reschedule his visit, probably for this time next year if I can.
If things seem better under control by May I have an idea for a local workshop leader.
So STAY HEALTHY, GET OUT IN THE FRESH AIR AND TAKE LOTS OF PICTURES! STAY IN CONTACT THROUGH OUR FACEBOOK
PAGE. I'LL POST CHALLENGES AND PLEASE INTERACT THIS WAY. SEND LOTS OF PICTURES. For those not on Facebook,IF YOU
EMAIL ME PICTURES, I'LL COLLECT A FEW AND SHOOT THEM OUT THROUGH EMAIL.👋🏻👋🏻
DOTTIE
• Kevin Karlson demonstrating how to hold and move the camera when taking birds in flight.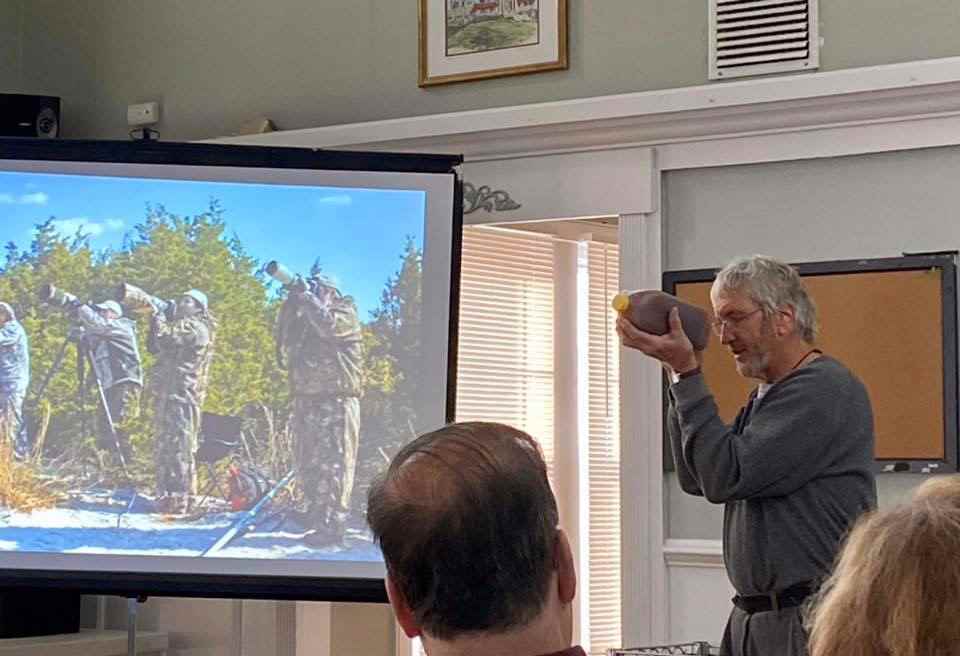 His talk was super and major informative. Good crowd on hand to enjoy the presentation and the gentle critique hour went very well. He's offered to come back to just do a critique session. We all learned so much, we'll definitely find a day for that! In fact, Kevin asks that you email him 3 or 4 before and after photos so he has some lead time to review and process them. Email full sized JPEG's directly to Kevin Karlson. Simply rename them as "before" & "after" and attach the photos to your email Mention PCCM in the subject line.
Thank you, Kevin! After the mixup we appreciated your effort and information twice as much!!
• Flyer for SJ Photo Clubs Exhibit at Riverfront Renaissance in Millville, as discussed yesterday. We decided we must have some entries and do our part as one of the clubs invited to participate. Please read this carefully and think about it. Any questions, please ask Dottie and we will help you find the answers. We can take entries by carpool.
• MARCH 18TH. MACRO SHOOT AT CAPE WINDS FLORIST, 860 Broadway, Cape May. Must register! (Contact me, Dottie Rogers as we're counting and limiting the number. We can take 20). $5 donation, please. The following are on the list as of March 2: Anne Harlan, Howard and Amanda McClain, Kathy Libby, John Snidenbach, Gary Pitel, Martie Grubb, Phyllis Graham, Melissa Bailey, Tom and Cass Dolan, Gail Van Scoyk, Bob Finlay and Dottie Rogers.
• Field Trip to Holland Ridge Farm Tulip Festival in mid April. Located in Cream Ridge, NJ. Click the link for videos and more information. The date for our field trip depends on when the festival will begin. A week day is definite. Date for Festival is weather dependent. I'll blast out our date choice as soon as it's confirmed and we'll coordinate carpools. There is a $6-7 entry fee.
• Ruth Kulisek shared some details on the workshop she and Bridgette Sherman will be doing for the club on August 3rd. It will be at the clubhouse. They will show us how they photograph people, both portraits and groups. They will have lighting set up and are even bringing some models along. This is an active participant event so bring your camera and a smile! You can bring your flash if you wish.
• The new camera Frank Nave brought in to show us is the SONY RX10 Mark IV, 24 frames per second, very light weight, 24-600mm zoom.
• Tom Dolan has been trying out Helicon Focus focus stacking software and is pleased with his results. A 30-day fully functional trial is available at the website.
• Ralph Cooper mentioned the 3rd annual Tuckahoe Transportation Heritage Festival is scheduled for Saturday, April 24, from 10am-4:00pm at the Tuckahoe Train Station. Google Tuckahoe Heritage Train Festival for all the details. A colorful event, full of activities and good food. Fun for the family and plenty of unique opportunities for photographers. Ralph also mentioned a Coast Guard event open to the public this spring but didn't have a date. Anyone with more info on that please post on Facebook.
• PLEASE GET YOUR DUES IN FOR 2020. Due now. Thanks so much! $30 PER PERSON. $50 PER COUPLE. A BARGAIN! We do a lot and it all costs the club something! Make checks out to PCCM and send to them to me. (201 South Broadway, Cape May, 08204)
• As always, check back here on the PCCM website for details and changes as they evolve.
👍 Dottie
February 14, 2020
Happy Valentines Day 💝
We had a good crowd at our Workshop "Just Dew it! and Bubbles Mania!" and everybody worked hard to try all stations. I don't think anybody tried to get a planet with a big bubble, but we had some success at most stations.
We tried, dew drops on string, on living things like flowers and leaves, bubbles and placing things under and behind big bubbles, refraction through solid globes and dew drops, marbles, oil and water, water and colored oil drops, nice colored backgrounds and base, etc. Some pictures posted on Facebook.

Just for your future use and fun, the recipes for the solutions we used are:
Bubbles solution- 2T dish soap Best let it stand over night
1T Glycerine
1/2 cup water
Dew Drop Solution-3 parts water, 1 part Glycerine
Dates to put on your Calendar:
March 2nd, 1pm-5pm, at the clubhouse - Kevin T. Karlson, Nature Photography Workshop and critique session. This is Kevin at his best and gentle self. More details here.
March 18th, 6:00pm - Cape Winds Florist, 860 Broadway, West Cape May - Flowers Close-Up. Make and shoot your own arrangements. $5.00 fee towards the flowers we use.

And PLEASE make sure your dues are up to date.
March meeting is the deadline.
Thanks!!
Dottie
January 8, 2020
Happy 2020 Everyone!🌈
We have lots planned for the new year. So mark your calendars and join us! Please check the Upcoming Events page for the latest on the new year. Mark you calendars now!
Our meeting Monday, January 6th, was very informative and we had lots to see with hands on time as well. Thank you Bart Feldman for sharing your equipment and knowledge with us. His topic: Lenses and Latest Trends in Equipment. It was such fun to see all the lenses and learn about what is coming with various camera systems. Bart is an owner of the T&F Camera Shop and a working professional so he has first hand knowledge and experience that is rare and helpful. I did not know that the companies themselves set the prices for everything. So B&H and T&F offer same. Nice we have a couple people we can talk to and get advice from close by. Camera Shops are few and far between now. Thanks for coming Bart. It was fun and we learned a lot!
This year, 2020, I'm going to try to have a Board Meeting before every small group meeting at 5:00pm and we'll have pizza or hoagies or something. First Board Meeting is on Jan 15th. We're so diversified now we need to collectively get things done and I need help with ideas and planning and sometimes equipment. Thanks, everyone!!
Mike Hannisian is offering Photography workshops running several Saturdays in a row. Only $25 each session. You can go to all or one. I'll try to send you that information…. They are basic but well done. And our group has all levels of ability. Think about it. Watch for the flyer. I came home without mine…...
Anyone interested in Lightroom or processing get togethers? I will arrange if we get a few who are interested.
Please send me information you think you want to share, requests for programming, names of possible speakers and workshops.
Time of year to PAY DUES.
$30 per person, $50 for a couple.
We'll be collecting at each meeting now until thru the March 2nd meeting. Please take time to check your information on our members list you all have. Make sure there are no corrections or additions. Super important. Bring to a meeting or mail to Dottie Rogers, 201 South Broadway, Cape May, NJ 08204. Make checks payable to PCCM. Thanks Everyone!!
November 11, 2019
Hello and Happy Holiday Season!
Notes from our November meeting.
FYI: Each month after each meeting I try to pass on important announcements and dates I'd like you to be aware of, maybe put on your calendar, keep handy. More than half our club is not on Facebook and less than half get to each meeting, so I need to be sure everybody keeps up to date with plans and happenings. I keep a folder on my desktop called "Odds and Ends I want to keep Handy" and I drop this note in. Then all our Club events are "Handy". If you are not in the habit of doing that, remember Bob Finlay keeps our Website up to date and you can check there any time if you have need to recall when something is happening. Or email me with questions. Feel free to check. We are busy!
November Club Workshop was chuck full of information on printing and paper. Ed Russell, with Cindy Russell helping, showed example after example of prints on different papers and talked in depth about his favorite methods and materials. He favors matt papers because of the soft clarity and depth of color, and non glare behind glass appearance. Thank you both for sharing your expertise and experience with us, Ed! Beautiful prints and lush colors in all!
The Exhibit at the Carriage House is now down. Many members took their pictures home after the meeting. Others are at my house to be retrieved ASAP. They'll make beautiful Christmas presents! We sold 25 or so. I don't have the final report yet, but a couple people sold 4. some sold 2 or 3 and the big ones went. I was surprised, but it's true. When I find out exactly what sold, we'll analyze it and plan around what we know. Thank you all for your efforts. MAC was pleased!
I am now collecting miniatures for the Christmas Exhibit. They're fun and cute. I/2 dozen people have brought me some. I'll deliver tomorrow (Tuesday).
Our next Meeting is Wednesday, December 4th at 5:00pm at the Clubhouse. It is our Pot Luck dinner and Members Showcase. Club will supply baked ham and coffee and tea. Otherwise it is BYOB. Bring your spouse or significant other and join the fun. We are asking members to make a slideshow on any topic, with music or without, 2 to 8 minutes long, put them on a thumb drive. If you need help making a slideshow, give a yell and we'll help you. Bill Riches will help you with music. Please bring them to my house and put them in my mail slot-my front door if I'm not home, or take them to Bill Riches' house (2 Springers Road, CMCH-easy to find), or if you can't get them to us early, bring them to the meeting. Bill will have it set up to play smoothly.This is fun and everybody should learn to make a slideshow. You will use that skill and love it forever.
A brief outline of 2020 programs was presented. Lots to look forward to, lots to participate in.
Please keep these "Handy" for reference and check the website.
Keep Shooting! Keep dropping photos off on our Facebook page!
Challenge to all. Post one photo at least on Facebook each month.
Dottie
October 9, 2019
Hi Photo Friends.
A few things you need to know from our meeting Monday.
"MilkyWay Mike" Blew us away Monday. His images were wonderful! He showed us pictures from many well known dark spots all over the US where
he could get amazing landscape and surroundings. He detailed how he manages to capture the stars and milky way, and talked about
stacking and blending his images, post processing as well. He shared his equipment and techniques. And stressed going out in the daylight to plan
great shots and find foreground details that make his images spectacular. Excellent presentation! Thank you Michael Ver Sprill for your sharing your
expertise with us. Kudos!! to you and for learning so much so fast. Down by the bunker is the best place around here he says to find the Milky Way-in
case you want to try!
Check out his website for tutorials, videos, Galleries, etc. Well worth a little attention to absorb more ways to "Master the Lights of the Night Sky".
Next meeting is November 4th. By request we are going to talk about printing pictures and what paper is best—to get the print you want. Ed Russel, Dennis Abriola
and John Kapusnick will share their expertise with us and we will have time for questions. You will hear about and see many samples. And we'll see I hope, images
printed on some new things like metal.
After the meeting Frank Nave will answer questions and help those who have questions about his "Digital Watercolor Painting". Bring your computer if you want and
take some time to refine your skills with digital watercolor painting. Again, time to ask Frank questions has been requested. Take advantage of this opportunity!
Heads Up! The December meeting of the Photography Club is changed to Wednesday Evening December 4th. We meet at 5:00pm for a Pot Luck Dinner then run
our Members' Showcase. For those who are newish, this is an opportunity for you to put together a 6 to 8 minute slideshow, any topic, with music if you wish and
share it with the group. We ask you to get them to Bill Riches or me a week before so he can put them together and help you with music if you like.Thanksgiving weekend
is looming, so I'll collect any time in November. This is a fun evening and you will be blown away with the slideshows you see. We like at least 12, so please get your
creative juices going and because of the holiday season, you need to get started now! If you want to learn how to make a slideshow, we have time in November to do that.
We can run a workshop. Let me know if you want to do that. Knowing how to make a slideshow is an essential Life Skill!! I think. You'll do it again and again. Anyway, take
time to learn! It's so fun!
We never ask for specific things for our dinner. I bake a ham and the club provides coffee and tea, and it's BYOB. The dinner is always wonderful, and the slideshows
outstanding and funny, some heart tugging. Please make an effort to participate!
I'm planning the Exhibit season for 2020 at the Presbyterian Church. Let me know if you-Solo or 2 or 3 of you are interested in having an Exhibit there. And We will discuss at
our next meeting if you want the club to pursue an exhibit at the Mad Batter. Gets busy. Think about it. I have to ask a good year ahead for the Mad Batter space. And I
cannot handle it alone. Commitment means some level of help from members. We may all be too busy….Voice your opinion. I voiced mine. I cannot do it alone.
AND
The club has been asked if they might be or individuals might be interested in participating in a weekend show at Fishing Creek Museum, for the benefit of that museum.
They keep 20% of the asking price. This would be a juried show, so items would be brought in Thursday, and those chosen/accepted would have an "Opening" social Friday.
Then on Saturday the show would be open 10 to 4 and Sunday open 10 to 2. Is there any interest in this kind of thing at all? Wht time of year is best to try this? It is definitely
wonderful to be considered and consulted about things like this and to be included in the Physick Estate events. It's a huge compliment and humble pat on the back.
Dates to Remember
I talked to Mary Stewart who is in charge of the Physick Estate Exhibits and she said they would take down the present lighthouse show November 4th and gather the
miniatures the following week. So I will get them in the morning and you can retrieve yours at our meeting, November 4th or at my house the next couple days. At the same
time you can drop off your miniatures for the next exhibit. That exhibit will remain up through the Christmas season and be disassembled after the new year. Miniatures
mean 4x6 or 5x7 photos framed- I'm suggesting cute frames, many miniatures are in fancier frames than usual. We'll need a lot of them I believe. Long season and
people tend to buy at Christmas time, and they will be small and they will be less expensive so tourists can take them home easily . Again, the Physick Estate takes a bit.
I'll have a report of how we did sales wise this summer at the next meeting. I have no idea overall, but Mary seemed very pleased. I know Werner sold one last weekend.
Penny Pagano the weekend before, I believe.
I'm hard at work getting programs and speakers for 2020. I'm very excited with January through June plans. Working on Fall now. If you have any suggestions or places
we can go for our photo shoots, please let me know. Or if you want to do a workshop-bravo!! Our club has so much talent, humble, quiet amazing talent. We need to utilize that
And enjoy it.
Oh, and for heaven's sake, I almost forgot to tell you -WE HAVE A NEW PROJECTOR!! Member, Bill Riches, got us a really good quality projector, very much like our old one,
but a couple steps up, and it is much sharper and brighter. It was obvious when we saw the pictures Mike Ver Sprill showed in daylight. I actually tried to get him to come at
night because I thought his night scenes would project better. (He couldn't) But it was fine with the new projector. So we will continue to have 50/50's for a few months to alleviate
the cost. I actually borrowed Bill Riches' projector 3 times for meetings and would have had to for this meeting, so we searched and I am thrilled. I had to run up and get his projector
each time and then take it back. It was ridiculous. We are a photography club for heaven's sake, so it is the right thing to do and we are still financially OK. (We got a $1200 machine
for about $950 thanks to Bill.)
Waiting for a date when Werner Tedesco will take us out "Light Painting!" Watch for a bulletin. Want clear weather and little wind.
Fall colors coming.
Call the hot line for beautiful spots or great colors so others can find them.
I've been watching for Monarchs. Nothing spectacular. I'm watching….
Dottie
September 13th, 2019
Greetings Friends!
The Meeting of the Photo Club Monday Night was great fun. Meeting at a different place always is a bit disconcerting, but the Lutheran Church is a great venue, screen already in place, plenty of space, nice open kitchen area and plenty of parking. They do not charge us anything and seem glad the space is used by people in the community. So we thank them profusely and periodically give them a donation.
We saw about seven Great Scavenger Hunt Entries and they were entertaining and funny. It took a lot of time to gather the pictures asked for and I know when I sent out the list in May it seemed way too early to think about, but most of us were playing catch up the last week, trying to find an insect that flies flying or cop in uniform to hug or flip flops in the sand. 3 people found every single item and were rewarded for their effort with a small prize. All who entered got a Hershey's candy bar at least. We decided we need some practice to do a Tony Sweet Swipe. We'll work on that.
The Meerwald Evening Sail on Sunday, September 22, is approaching fast. We have a full ship (41) and a waiting list. For those on the waiting list, I will call you if a space opens up. Things happen that make it impossible to attend. I'll let you know asap. The address given is 1200 Lincoln Blvd., Cape May Ferry Terminal. We are asked to be there at 4:00 to 4:15pm and we sail at 5:00pm The Captain will let us board and we can bring something to eat and drink, wine and cheese is fine. No hard liquor though. We sail unless the weather is rainy. Because of our cameras we have a 24 hour window to postpone. We'll get hard copy tickets in that case and will reschedule. But we plan a lovely September evening! This will be lots of fun and with a full ship a wonderful social event for the club.
Next meeting is October 7th, 1:00pm at the Clubhouse. Michael Overspill will be with us, known as "Milky Way Mike" and topic "Mastering the Lights of the Night Sky." His work has been shown in a National Geograohic artlcle, Weather and Stargazer Magazine, NJ Travel Magazine Cover in 2014 and 2016, etc. Google him to see his fine art photos as well as lovely and exciting images of the night sky.
November will bring information on printing pictures for sale or for your own use as well. We've had lots of questions about what paper is best and the answer is, it varies. You will go away with lots of ideas. Member Ed Russell, who has printed his own pictures for many years will show us a number of options and have some examples to pass around. Member Dennis Abriola who prints his own pictures as well, will talk to us about Matt paper and why he likes that. Member John Kapusnik who prints his own, will talk about his choices as well. I'm going to ask someone who printed on metal and on glass to share their thoughts. It will be helpful and interesting and you will have much to think about when you leave. If you have printed a picture on something different from the norm please bring it and share what you learned or like with the group.
After working to fix our old one for months!! we have decided we need a new projector. We'll be working to accumulate enough money in the treasury to buy a good one, one that will project pictures well, will be sturdy and will last a long time. Someone suggested we have a 50/50 raffle each meeting this Fall. So we did this meeting and the club made $52 and Eloise Boccella won $52. It was fun and that's a good start! So be prepared to buy a few tickets at the next meeting and see if you are the lucky one to win the 50/50. Cost 2 tickets for $3.00, 4 tickets for $5.00. Thanks everybody for helping us out!
Frank Nave has agreed to have a small group meeting (at my house) to help some members with his Digital Watercolor Painting Technique. Let me know if you are interested. We'll start with a group of 6. He'll let me know a date soon. And I'll pass that on.
We've been asked by MAC to gather together miniatures for the Christmas Season. They will be for sale as the Lighthouse pictures were. Miniature we are defining as 4x6 pictures in a cute frame, or 5x7 in a cute frame. The theme is Christmas in Cape May. They will fill an 8 foot wall with these and they need them by November 30th. Please let me know if you have any you might want to include.
The club is considering having a sale or exchange day of Photography Equipment you might want to get rid of. Yard Sale?? We all have things we are not using any more, or don't need or have replaced with a better one and we could help each other out by pricing it as used. I have some things I have accumulated over the years from club activities I'll include as well. We could open it to the public, but that was not well received. We'll talk it over with the board and get back to you. I'd appreciate your input/ideas. Email me with suggestions.
Melissa Bailey and Phyllis Graham have a Mother/Daughter Exhibit at the Presbyterian Church this month. It would be nice if you could stop by some morning to see it. Open Monday through Saturday, 9 to 12. Anybody interesting in putting up an Exhibit? Talk to me about it……
See you on the Meerwald or in October!
August 12, 2019

Greetings Friends!
Our Meeting August 5th caused quite a stir. PCCM Member Frank Nave showed us in detail his "Digital Watercolor Painting" technique. He showed Before and After images which caused an intake of breath-gasp, they were dramatically different. Frank is/was an artist whose medium is/was watercolor. Now he's doing it with his camera and digital post processing. We watched as he used Photoshop brushes to create soft and airy images. The finished product takes time he told us, sometimes hours of patient processing. The finished products do absolutely look like watercolor paintings. Thank you, Frank, for sharing your expertise with us. Lots of members will definitely experiment with this process. Frank said he would be glad to help you if you need help. We have to ask some meeting for images changed in this way. I'll bet ours all would have a unique style and look. What a fun for and major jolt to our creative juices!! Kudos Frank Nave!!
Please take notes and remember the things we have lined up for Fall.
August 28th 5:00pm, Wednesday, -Willow Creek Winery Shoot and Social
The Grapes will be lovely so we'll shoot in the vineyards and catch the sunset, then have food and a glass or two of wine- or iced tea. Inside or out it's a very pleasant setting. They have several colors/types of grapes. All different shapes and sizes. Lots of fun.
September 9th -Scavenger Hunt Show
I am trying to schedule an evening meeting (6:00pm) but I have to find a venue that will work. Hopefully the Lutheran Church in Cape May. I'll let you know in a day or 2.
That is when the Scavenger Hunt I announced at our May meeting will be shown. Bill Riches will run it smoothly with his equipment. Put pictures on a thumbdrive and bring it to the meeting or drop off at my house any time now. Or bring them to the Winery Shoot.
The list follows in case yours has disappeared...
Photography Club of Cape May's 2019 Scavenger Hunt: Guide Lines
Take a picture of some or all of the following items from May 1st through Sept. 1st and put them in order as they appear on the list. Put them on a Thumb Drive and get them to me at least one week before the September meeting, which this year is September 9th because of the Labor Day Holiday. Please add up the points you believe you have and include that information with your Thumb Drive. You may include a few or all of the items on the list. Fun Prizes will be given in various categories. You will be amazed and amused at how different each entry will be. We all see things differently and it's Great Fun!
A Clarification- If you want full point count and you take a picture of a red car, that's 5 points. To earn 10 more points you need another picture of a red car or truck with someone posing in it. That combination of 2 pictures gains you 15 points. There are several instances where this is like that.
PHOTO CLUB SCAVENGER HUNT
10pt. 1. Tony Sweet Swipe
10pt. 2. Your Own Reflection in an Unusual Place
10pt.

Someone Posing with a Red Car or Truck
10pt.

Pool Noodle(s) Not in a Pool
10pt.

A Beard and Mustache
5pt. 6. Flip flop(s) or Shoe(s) in the Sand or Near the Beach
5pt. 7. Red and Purple or Pink and Purple
10pt.

Red and Pink and Purple
5pt. 8. Putting Something in a Donation Jar/Can
10pt.

Selfie Putting Something in a Donation Jar/Can
5pt. 9. Taking Time to Smell the Roses
5pt. 10. An Insect that Flies
10pt.

An Insect that Flies Flying
10pt. 11. Spiral Staircase
10pt. 13. Something or Someone Unusually Small (Perspective)
5pt. 14. A Cop or Fireman in Uniform
10pt.

Someone Shaking His/Her Hand or Hugging Him/Her
10pt. 15. Your View of FUNNY
10pt. 16. Movement/Moving
10pt. 18. Local Bird or Butterfly
September 22nd- Sail on the Meerwald-

5:00pm Sail.
So We will gather at the Ferry near the ship at 4:00pm. I'll be there waving us on!! They insist we take a last turn in the potty, then the Captain will "check us on board".
We can bring food and drinks. Wine or beer is fine. No hard liquor.
We have a full ship. I have started a waiting list. Most people have already paid for their tickets. Thank you Very Much- for paying so quickly and for the enthusiastic, quick response to the Sail.
Just a note. There is no refund available. The Meerwald sails if at all possible. But I can/will call 24 hours before sail time if the weather is a problem. They know we cannot sail when sprinkling
because of our cameras and if we cannot sail, we will get printed tickets we can use any time. We'll try the following week. We'll reschedule.
October 7th Speaker Michael Ver Spill, aka Milky Way Mike. 1:00pm at the Clubhouse
Topic: Mastering the Lights of the Night Sky
Google him and see what he does. This will be a fun talk/topic
In September and October we will be watching for opportunities to take pictures of the MONARCHS. They are predicting this will be a good year. Lots more have developed where they winter so they really hope we will see more return this Fall. We'll be watching closely for a Roost. We'll send the word out on our Hotline if we do.
November 4th 1:00pm "Photo Production-Printing and Paper --at the Clubhouse
By request I found a couple people who will talk to us about various papers to use when, why, where to find, etc. Member Ed Russell, who has been printing pictures for years and did a program for us a while ago, will share what he knows and has experience with. Dennis Abriola, who prints his own pictures as well, will share some tips he has learned over the years, and John Kapusnick will as well. I'm also asking a few members who for our exhibits this year printed their images on different things, like metal, to show us how that worked out. We'll have lots to see and compare, and share. Bring your questions!! And bring any pictures you have done on anything unusual that you liked or did not end up liking-tell us why….
December 2nd, 6:00pm at the Clubhouse, our Annual Pot Luck Dinner and Member Showcase.
This is our Chrismas/End of Year Celebration with 5-8 minute "Shows" members create, we show with music and fanfare!! Member Bill Riches will help you with the music or details if you need help.
We usually get 12 to 15 "Shows". Any topic this year, just something you enjoy, or something you did that was fun, or something beautiful you create(d).
No prizes except the cheers and good wishes you will get for the hew year!
PCCM made the front Page of the Cape May County Herald with a picture and description of what we did for MAC for their Lighthouse Exhibit at the Carriage House. That was really surprising and wonderful. And we made MAC's summer Newsletter as Volunteers of the Month for the Month of July. Nice

to get a little publicity!
And…….We have been asked by MAC to hang Miniatures for their Christmas Display. Miniatures meaning 4x6 pictures in a cute little frame or 5x7's in a cute little frame. They have an 8 foot wall they would like to fill with Christmas pictures that will be for sale as before. They keep 30%. I'll be collecting those the week of November 18th. I believe they will hang them November 22nd. Christmas in Cape May type images.
Keep posting pictures on our Facebook Page please!
Keep feeding me things you want to do, programs you would like me to find someone to do, ideas for shoots and Photo Ops. I'll shoot the info out ASAP!
Crowds will soon begin to thin out..Ahhhhhh!
July 2nd, 2019

PCCM Exhibit at the Presbyterian Church was taken down yesterday. We sold 5 things, including one of Sue Karaso's little sculptures. The Lighthouse Exhibit continues thru the summer at the Carriage House on the Physick Estate.
Solo exhibit by member John Kapusnik went up last Sunday with an opening reception at the Presbyterian Church. John's Exhibit is open 9-12 every day except Sunday and that day the church is open a lot. The weekend of the 4th may be a little off, but if you are in town, stop and see. His prices are very reasonable. Come out and support a member of the club!
Monday July 15th Board Meeting at the Clubhouse 1:00pm. Anyone who wants to share ideas or make suggestions is welcome to come and add to the agenda. We always need ideas for activities and speakers.
Donuts après Docks! Early morning Shoot at the Lobster House Thursday, July 18th. Dawn is about 5:15 so anytime that hour. We'll catch the fleet with magic hour light, 3 spots are great and different views each, we can find ropes, close up chipping paint on the ships, the boat houses from the dock, the fronts of the restaurants on the Lobster House deck. Coffee and Donuts at Dottie's afterward where we'll relax and share images.
Whale of a Day street fair is this weekend on Saturday July 6th on Clubhouse Drive. It's the biggest money making event of the CMBPOA Club's year. They'd love us to take pictures to put on their website. Email some to me or put on a thumbdrive and get to me. Mucho Thanks! (Dropbox did not work last year for them. Not sure why. If you sent them to Dropbox last year, maybe send some of those again and let me know. I'll alert them and it might work with a little help.)
Hope you are working on your Scavenger Hunt! Time slips by so quickly! If you need help with any item, please let me know and we'll work on that.
The Scavenger Hunt List is over on our
Upcoming Events for September
page. There's also a PDF version in the Files section of our Facebook page
Scavenger Hunt Checklist
.
In August we'll be doing a night shoot with light painting. I'm planning for us to work on a Tony Sweet Swipe of the sunset then as well.
Don't leave this Hunt to the last minute.
Can't get it together fast at the last minute…
Have wonderful Independence Day Holiday! Maybe shoot some fireworks over the bay or the beach.
June 14th, 2019

Whew! We've been busy this last few months! And all has gone very well. Then a computer problem for me. Sorry this is later than usual.
I'll start off with the fun day we had at the Lighthouse. A rare treat to be able to get inside and be allowed to use our tripods if wanted and be
everywhere. Thanks to Mary Stewart for arranging this for our club! (Mary Stewart would love to have some pictures from the day if you don't mind sharing.-she would give you credit if they use any. Email them to her if you don't mind at Mid-Atlantic Center for the Arts & Humanities.
Our meeting on June 3rd was a workshop by Mary Stewart, who is in charge of the MAC Exhibit we are participating in. She showed us how to prepare our photographs to be 'EXHIBIT READY'. This is important if we want to be part of nice shows around town. It is not difficult, but a little time consuming. Makes what we hang "classy" and correct. It includes wiring the picture in the frame, and paper backing. Absolutely looks professionally framed when done. And Charlotte Ryan was brave enough to try it! Thank you Mary!! Dennis Abriola showed
us how to prepare something for contests or competition. It was great to learn and go up a notch or two in presentation. Thanks Dennis!!
And then we had the Opening of our Exhibit at the Presbyterian Church. Looks Great! Good Crowd turnout. Thanks all who wanted to participate and all who helped hang. Now it's open mornings 9-12. Stop by with friends and enjoy. It's up the month of June. If a friend sees something he/she wants to buy, let them take it and drop their money in the plastic container or give it to the secretary or take it and remember the church gets 20%. Let me know and I'll fill the space with another photo, I have several ready to go. It will be successful if you keep telling your friends and inviting them to go see it. Keep the word out there.
The Club where we have our meetings is having their annual big money raiser, WHALE OF A DAY, July 6th, 8:30-4:00. It's huge, got everything from food, crafts, music, etc. and they would love us to take some pictures. They'll give you free lunch if you do it and let them know you are there. They'd love to put them on their website. Please consider going and enjoying the fun AND take pictures. Send them to me via email or thumbdrive and I'll send them on to them. We took some last year but somehow they were lost in the techie trail. We owe it to the club to help out if you can. And it's a fun day.
Hope you are working on your photos for the Scavenger Hunt. If you need help with any item, let me know. Show will be in September. If you did not get the list for the scavenger hunt, let me know and I'll send it to you.
Remember the Roost at the Ocean City Visitor Center is jumping with nesting birds. Seriously this next 4 weeks is a photographer's delight. Early morning is best, but throughout the day until it gets hot is great shooting.
Enjoy the good weather and great area for our passion!
Happy Summer
Dottie
May 22nd, 2019

Our next meeting is June 3rd, 1:00pm at the Clubhouse.
Mary Stewart, who is in charge of the Lighthouse Exhibit at the Carriage House will do a workshop on framing photos so they are exhibit ready. She's going to bring the materials needed and demonstrate how she does it. Anybody who wants to can bring a picture in a frame and we'll finish it ready to hang. We'll talk about getting your photograph ready for framing, and Dennis Abriola will show us how to get a photo ready for contests in the area, ready to be judged.
I'm accepting pictures for our Exhibit in June at the Presbyterian Church. Limit 3 per person. You can drop them off any time at my house. I'd like 35 or 40. I'll leave the side
door open- Grant Street side, glassed in porch. Must have a card with the name of photo, photographer, and price on it/with it. We will hang June 1st and need help. Let's meet at 9:00am. It's fun. Join us! Opening with light refreshments June 2nd, 1:00pm to 3:00pm. Now here's the thing. Everyone in the Club should try to come to the Opening AND send out a message to all your friends and family. If you do we will have a nice crowd. If you don't, we won't. The church will advertise on FaceBook, so will we and on Cool cape May. But the real thrust is your notes to everybody you know. So the week before please start shooting out the word- Photography Exhibit at the Presbyterian Church the month of June. Open mornings 9 to 12, before Jazz Vespers and East Lynne productions. Drum up interest and curiosity. I was there last Saturday and had 6 visitors and sold 2 photos.
Thanks!
See you soon!
Dottie
The Scavenger Hunt List is now over on our Upcoming Events for September page. There's also a PDF version over in the Files section of our Facebook page Scavenger Hunt Checklist.
Big thanks to Dottie for organizing not one but two great photowalks this month. And if that wasn't enough, she's got the club showing prints in not one but two shows this summer!
April 13th, 2019

We have several things coming up in April and May that you need to be aware of and join in if you can.
SO HEADS UP!!
There is an Exhibit at the Carriage House on the Physic Estate in Cape May that will be a summer long event. They have asked our club to provide pictures of the Cape May Lighthouse. More than a dozen of you have expressed interest so please bring those framed and ready to hang pictures to my house by April 14th by 5:00pm. I need to organize the information and Biographies. I have some volunteers who will help me get them to the Carriage House. Some are big and beautiful, some smaller and marvelous! This exhibit runs from May 1st through the end of September. There are no restrictions for size or frame. Physic Estate takes 30%, artist 70%. There will be an opening probably April 28th, they often have them in the evening. I'll know more after we deliver the pictures. (Dues Paying Members Only)
We have an Exhibit at the Presbyterian Church the month of June. Those wanting to participate must bring their pictures to my house by May 29th. I have at least a dozen signed up already for this. Our usual regulations apply- Black frame, must have a white or off white Mat, Wired for hanging, 3x5 card with name of picture and price for each entry. Small Biography please. The church gets 20%, photographer 80%. We will hang June 1st. Opening June 2nd, 1 to 3pm. It's a good idea to put your information on the back of each picture. (Dues Paying Members Only)
On May 6th Frank T. Smith, Olympus Visionary, world traveler and instructor, who calls himself a philanthropic photojournalist will take us on a photo walk through Cape May. His topic, "Architecture and Abstract"! This should be great! Do we have architecture, or what! Our meeting is set for 1:00pm, but that may change. We will meet in front of the Catholic Church on the Mall. (Dues Paying Members Only)
On May 15th we will go to Philadelphia for a Photo Walk (our theme this month!). I have arranged for a private tour of Mural Art in Philly-They are famous for this art and travel many places to share this idea. Cost $18 per person. We must be at the Mural Arts Center in time for a 10:00am to 12:00am walk. It is a 2 miles, 2 hours long, easy walking. We will end up at the Reading Terminal for lunch. Some of us might do some photo shooting in the afternoon. Some may go straight home. We'll play that by ear. I may post some ideas of what is close and fun to shoot later. We will car pool- we'll arrange closer to the time as well. We need 20 people to get the good price. 19 have signed up. Let me know if you are interested please. Open to anyone.
The Presbyterian Church in Cape May is creating a venue for local artists and craftsmen to exhibit. This is the church that has East Lynne Theater, Jazz Vespers, Food Bank. They want to encourage and support the arts and local talent and have a nice Fellowship Hall recently refurbished and now set up to hang pictures or crafts. The church will take 20%, artist keeps 80%. Each exhibit will hang one month. There will be an Opening with refreshments provided by the church. It will be open for viewing before and during performances, Mornings 9:00am to 12:00, Sunday 1:00 to 3:00. They will advertise and have a sign outside. I'm in charge right now and I'm looking for anyone who might be interested in having a solo Exhibit, or maybe one with a friend. At any rate I'd like to fill the calendar through December. Email me if interested. And Spread the Word.
And last but not least, our September 9th meeting will be a Scavenger Hunt. You must take a picture of at least 12, all 15 if you wish, put them on a thumb drive and get them to me by August 31st. Pictures In the order they are listed please. I will organize them and we'll show them at the September 9th meeting. There will be some prizes for the effort. You have all summer to do this, best if not left till the last moment! This is a fun project and really fun to see how each photographer sees or interprets the items on the list. You will find the entries are very different from each other and very creative.
Let me know if you have any ideas for small group topics or workshops, or speakers, or programs. I value your input.
See you soon- delivering photos or on one of our adventures!
Dottie
March 6th, 2019

Another Fun Meeting for PCCM.

On March 4th our theme was Travel Photography. Lew Gayner, from Centreville, MD, was with us to share a trip he calls "Around the World in 65 Days". He and wife Shirley planned an extensive trip and ventured on their own to Bali, New Zealand, Australia, Viet Nam, Cambodia, Burma and Dubai for an exciting and challenging adventure. It was a fly here with a researched "wing it" few days, anxious to see all they could in their alotted time. The one thing that was set in stone were the flights from country to country because of required visas and the need to tell each government when they would leave. A very different part of the world to wander. Beautiful, each country very different from the other. He showed us the travel camera he likes now. He's using a Sony RX Mark 1, the first iteration of the model, they're up to IV now. His is 24-200, the latest is 24-600. All do Video. Thanks for coming, Lew! Unique and interesting! And yes, that New Zealand sheep is magenta!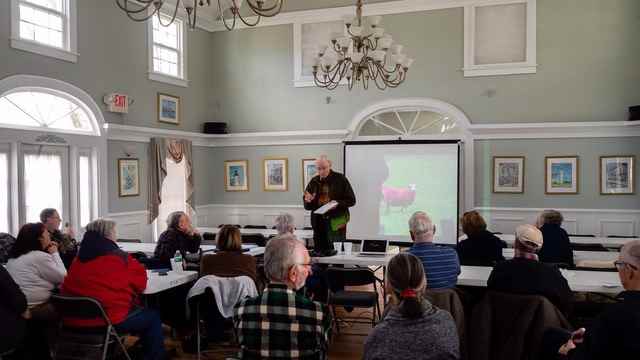 Then Ruth Kulisek shared her amazing travel gear with us. She's a hiker and goes kayaking in some crazy water situations, so she has created a way to have her camera ready to go but safe from the elements that is creative and works in extreme conditions. Her camera is safe and ready to fire, her hands can be free to hike or paddle. Wonderful!! Dottie shared a backpack she took to China that is slash proof, swipe proof, light as a feather, holds everything you need for the day, including camera "stuff" and rolls up into a small tuckaway. So small she couldn't find it. Hopefully before the next trip! Thank you Ruth!!
Our Hotline is functional. For new members who ask, what is that, why bother? It uses a messaging app called WhatsApp which is separate from your regular messages. So you'll need to get the app and let Melissa or Dottie know you wish to be included. It is a way to send a quick message to members there is something special you can/must/should try to see/capture. For example, if someone sights a Snowy Owl, an unusual bird, an eagle coming back to one spot repeatedly, the Monarchs Roosting, the birds arriving at Ocean City Roosting for the summer. And so on.
Not for personal chatting, but for alerts and Heads Up moments to catch a very special photograph. Thanks Melissa for getting this up and working!
PCCM has the opportunity to be part of an Exhibit for this tourist season at the Physic Estate Carriage House. MAC (Mid Atlantic Center for the Arts) wants Pictures of the Cape May Lighthouse only.
For Dues Paying Members Only. I have a list of those interested. Good number already notified me. But let me know if you might be interested. Might need more at some point. Photographers can make some money.
Here's the Scoop. And we're serious about the details.
Pictures must be framed and ready to hang- wire required. No restrictions otherwise. Any color frame, matted or not, only size restriction is that it must not be larger than 45 inches wide,
For sale. MAC, the Sponsor gets 30%. Photographer gets 70%. The exhibit will run from May until the end of September.
If something sells, it will be replaced from what is on hand.
I'm suggesting each person interested get me 1 to 3 photos by April 14th. Absolutely no later than 5:00pm.
On an index card (preferably 3x5) list:
Photographer's Name
Name(s) of Picture(s) entered
Price of each
A Brief Biography of the Photographer is required as well, not on the card necessarily, but MAC needs that information for a booklet they'll have on hand for visitors to look at.
I'll make a master list and will take the pictures I have and the information to MAC on the morning of the 15th.
There will be an Opening, not sure of the date yet, but late April, when the exhibit is up and ready for the public, and it's usually very nice with refreshments and a speechy intro to the public.
This is a big deal in Cape May…. Things at the Carriage House. And we are major lucky to be included. I'll email those who expressed interest. Proud moment for PCCM! The whole club should go to the Opening!
We've (PCCM) been invited to attend the Annual Banquet that the Photographic Society of Vineland is having March 21st, at the East Lynne Golf Course, 6:00pm to 10:00pm.. I feel so complimented they would include us. I plan to go, and we have 6 or 7 PCCM members who are members of both clubs that will attend. How great to be part of a growing community of South Jersey photographers who know each other, enjoy the common interest, and more and more often bump into each other having a nice photo experience. The dinner menu is really lovely and the speaker afterward as I understand will show some of the winners of their competitions for the past year. It should be an interesting and fun evening. Please contact Gary Pitel rdoc29@gmail.com if interested by this Friday. Cost is $35 pp.
I saw a segment on Good Morning American recently about a theater in Lansdowne, PA, they are trying to save and restore. It is on the Abandoned America list of architecture. I called Mark Schultz and asked about our group going for a shoot, and they do allow photographers to do that. However it is $70 a person for a 3 hour time limit, so not practical for us as a group. They have a minimum number of 4 for that type event as well. I'd like to do it. Can I find 3 other people in the club who might be interested? I was thinking mid April or June. Let me know if interested. It's near Philly and a 2 hour ride from Cape May. Email me if interested -dottierogers2@gmail.com
I still have a couple large and medium sweatshirts available and 2 hats to sell. I'm sending in a new order for sweatshirts after I send this out. Let me know if you want one ASAP. Everybody who has gotten one has been very pleased with the quality and soft feel, even after washing.
Upcoming Events – Please check our Upcoming Events Page for the latest info. We'll update locations, times and dates as they evolve. April and May are already busy so mark your calendars now.
Thanks for your support!
Dottie
February 7th, 2019

2019 off to a great start!
Don't forget to pay your dues. We're a busy bunch and we need your support!
Bring them to a meeting or send to Dottie Rogers,
201 South Broadway, Cape May, NJ 08204.
Make check($30) out to PCCM.
Monday's meeting was at night so we could try our hand at Still Life Light Painting. In the darkened room Scott Wheaten wowed us again with his PhotoShop wizardry and patient post processing. Then some of us tried our hand at light painting objects or still life's we put together and I must say, it was fun and very different illuminating things in the dark. Even without the post processing we'll try later, they were beautiful. Thank you, Scott. You enlightened us (oh the pun!) and it was a challenge! I learned also I have lots to learn about post processing!
On February 20th, our small group meeting will be at 201 South Broadway, CM at 1:00pm. We will have a workshop and play with bottles. I'll have 6-8 stations set up and 3 to 7 bottles at each place. We'll try our hand with glass. It's a challenge because of the reflections and streaks of light you capture. You know I have oodles of bottles, lots of different colors, shapes, old, newer, tall, small, plain, some with markings. We'll start with the bottles I put at each station for an hour. I'd like us to move from station to station the first hour, then we'll mix and match and see what happens. They'll all be very different. Maybe I'll ring my bell. I hope we have a sunny day because I get lots of natural light in my house. But bring your flash or flashlights with you as well and tripods of course.
On March 4th, 1:00pm at the Clubhouse our theme is TRAVEL PHOTOGRAPHY. Having been to China where I was 1 of 2 who used a camera, everyone else used their phone, I thought it would be interesting to hear your thoughts and ideas on what you travel with. Many of us have traveled the last several years and we'll have fun exploring new trends. To start things off, I asked my brother, Lew Gayner, from Centreville, MD., to talk to us about his latest trip and show us the camera he is using and swears by for travel now. He has been in photography forever and has traveled everywhere you can imagine. His talk is called: "Around the World in 65 Days" and it is a marathon zoom from New Zealand to Australia, to Myanmar, Cambodia, Thailand, Dubai, etc. 17 flights to make, then find special places they wanted to see on their own. And he'll talk about the camera he loves for travel. I'd like people who travel to tell us your feelings about carrying our big guns on trips. And I'd love you to meet my brother.
May 15th 10:00am-12:00pm I booked a Private Walking Tour for our club of Philadelphia Mural Art. We will start at the headquarters, on North Broad Street and park there. It is an easy 2 mile walk and we'll learn from our guide about the neighborhoods, the history, and the artist(s), and stop at ones we can photograph. We'll end up for lunch probably at Reading Terminal. Some of us may stay a few hours in the afternoon and explore a bit more. There are 20 spots, the cost is $18 per person. Dues paying members have first choice, then spouses, then we'll open it up to others if need be. We'll car pool. This is a go if sunny or even cloudy, but if it rains we'll postpone. Please email me if you are interested. 9 people signed up at the meeting.
We have a membership list about ready to hand out. Please let me know if you do not want your email listed or phone number. This will be so nice to have, for when we want a friend to go out shooting with or to car pool.
I'm about to order a few more sweatshirts. If you want one please email me and I need the size as well.
My son helped me set up a Hot Line for our club. It is a text chat line of sorts. Birders do it, we can too. We need to be able to Alert each other if we see something cool to shoot. Like when a snowy owl is sighted, or when the Birds arrive at the Roost in Ocean City, or when the Monarchs Roost is Cape May Point or the sunflowers bloom on Rt. 47, or eagle sightings. If you want to be part of this Hot Line, send me your mobile phone number. This is for Dues Paying Members Only. You cannot add a friend. You can however chat on it yourself. When you see something you can blast it out just by texting your photo friends in the club. I have already gotten 11 people on it who signed up Monday night. I'm having trouble with 6 people. I'm working hard to work through the problem. iPhones automatically can text (iMessage). Androids need a little nudge evidently. Or to get the two talking to each other. Once we're all on, it will be great!
I/We need Lu Ann Daniels information. Email, phone number, etc. Can anyone help?
Thanks for your help and support!