June 14th, 2019

Whew! We've been busy this last few months! And all has gone very well. Then a computer problem for me. Sorry this is later than usual.
I'll start off with the fun day we had at the Lighthouse. A rare treat to be able to get inside and be allowed to use our tripods if wanted and be
everywhere. Thanks to Mary Stewart for arranging this for our club! (Mary Stewart would love to have some pictures from the day if you don't mind sharing.-she would give you credit if they use any. Email them to her if you don't mind at Mid-Atlantic Center for the Arts & Humanities.
Our meeting on June 3rd was a workshop by Mary Stewart, who is in charge of the MAC Exhibit we are participating in. She showed us how to prepare our photographs to be 'EXHIBIT READY'. This is important if we want to be part of nice shows around town. It is not difficult, but a little time consuming. Makes what we hang "classy" and correct. It includes wiring the picture in the frame, and paper backing. Absolutely looks professionally framed when done. And Charlotte Ryan was brave enough to try it! Thank you Mary!! Dennis Abriola showed
us how to prepare something for contests or competition. It was great to learn and go up a notch or two in presentation. Thanks Dennis!!
And then we had the Opening of our Exhibit at the Presbyterian Church. Looks Great! Good Crowd turnout. Thanks all who wanted to participate and all who helped hang. Now it's open mornings 9-12. Stop by with friends and enjoy. It's up the month of June. If a friend sees something he/she wants to buy, let them take it and drop their money in the plastic container or give it to the secretary or take it and remember the church gets 20%. Let me know and I'll fill the space with another photo, I have several ready to go. It will be successful if you keep telling your friends and inviting them to go see it. Keep the word out there.
The Club where we have our meetings is having their annual big money raiser, WHALE OF A DAY, July 6th, 8:30-4:00. It's huge, got everything from food, crafts, music, etc. and they would love us to take some pictures. They'll give you free lunch if you do it and let them know you are there. They'd love to put them on their website. Please consider going and enjoying the fun AND take pictures. Send them to me via email or thumbdrive and I'll send them on to them. We took some last year but somehow they were lost in the techie trail. We owe it to the club to help out if you can. And it's a fun day.
Hope you are working on your photos for the Scavenger Hunt. If you need help with any item, let me know. Show will be in September. If you did not get the list for the scavenger hunt, let me know and I'll send it to you.
Remember the Roost at the Ocean City Visitor Center is jumping with nesting birds. Seriously this next 4 weeks is a photographer's delight. Early morning is best, but throughout the day until it gets hot is great shooting.
Enjoy the good weather and great area for our passion!
Happy Summer
Dottie
May 22nd, 2019

Our next meeting is June 3rd, 1:00pm at the Clubhouse.
Mary Stewart, who is in charge of the Lighthouse Exhibit at the Carriage House will do a workshop on framing photos so they are exhibit ready. She's going to bring the materials needed and demonstrate how she does it. Anybody who wants to can bring a picture in a frame and we'll finish it ready to hang. We'll talk about getting your photograph ready for framing, and Dennis Abriola will show us how to get a photo ready for contests in the area, ready to be judged.
I'm accepting pictures for our Exhibit in June at the Presbyterian Church. Limit 3 per person. You can drop them off any time at my house. I'd like 35 or 40. I'll leave the side
door open- Grant Street side, glassed in porch. Must have a card with the name of photo, photographer, and price on it/with it. We will hang June 1st and need help. Let's meet at 9:00am. It's fun. Join us! Opening with light refreshments June 2nd, 1:00pm to 3:00pm. Now here's the thing. Everyone in the Club should try to come to the Opening AND send out a message to all your friends and family. If you do we will have a nice crowd. If you don't, we won't. The church will advertise on FaceBook, so will we and on Cool cape May. But the real thrust is your notes to everybody you know. So the week before please start shooting out the word- Photography Exhibit at the Presbyterian Church the month of June. Open mornings 9 to 12, before Jazz Vespers and East Lynne productions. Drum up interest and curiosity. I was there last Saturday and had 6 visitors and sold 2 photos.
Thanks!
See you soon!
Dottie
The Scavenger Hunt List is now over on our Upcoming Events for September page. There's also a PDF version over in the Files section of our Facebook page Scavenger Hunt Checklist.
Big thanks to Dottie for organizing not one but two great photowalks this month. And if that wasn't enough, she's got the club showing prints in not one but two shows this summer!
April 13th, 2019

We have several things coming up in April and May that you need to be aware of and join in if you can.
SO HEADS UP!!
There is an Exhibit at the Carriage House on the Physic Estate in Cape May that will be a summer long event. They have asked our club to provide pictures of the Cape May Lighthouse. More than a dozen of you have expressed interest so please bring those framed and ready to hang pictures to my house by April 14th by 5:00pm. I need to organize the information and Biographies. I have some volunteers who will help me get them to the Carriage House. Some are big and beautiful, some smaller and marvelous! This exhibit runs from May 1st through the end of September. There are no restrictions for size or frame. Physic Estate takes 30%, artist 70%. There will be an opening probably April 28th, they often have them in the evening. I'll know more after we deliver the pictures. (Dues Paying Members Only)
We have an Exhibit at the Presbyterian Church the month of June. Those wanting to participate must bring their pictures to my house by May 29th. I have at least a dozen signed up already for this. Our usual regulations apply- Black frame, must have a white or off white Mat, Wired for hanging, 3x5 card with name of picture and price for each entry. Small Biography please. The church gets 20%, photographer 80%. We will hang June 1st. Opening June 2nd, 1 to 3pm. It's a good idea to put your information on the back of each picture. (Dues Paying Members Only)
On May 6th Frank T. Smith, Olympus Visionary, world traveler and instructor, who calls himself a philanthropic photojournalist will take us on a photo walk through Cape May. His topic, "Architecture and Abstract"! This should be great! Do we have architecture, or what! Our meeting is set for 1:00pm, but that may change. We will meet in front of the Catholic Church on the Mall. (Dues Paying Members Only)
On May 15th we will go to Philadelphia for a Photo Walk (our theme this month!). I have arranged for a private tour of Mural Art in Philly-They are famous for this art and travel many places to share this idea. Cost $18 per person. We must be at the Mural Arts Center in time for a 10:00am to 12:00am walk. It is a 2 miles, 2 hours long, easy walking. We will end up at the Reading Terminal for lunch. Some of us might do some photo shooting in the afternoon. Some may go straight home. We'll play that by ear. I may post some ideas of what is close and fun to shoot later. We will car pool- we'll arrange closer to the time as well. We need 20 people to get the good price. 19 have signed up. Let me know if you are interested please. Open to anyone.
The Presbyterian Church in Cape May is creating a venue for local artists and craftsmen to exhibit. This is the church that has East Lynne Theater, Jazz Vespers, Food Bank. They want to encourage and support the arts and local talent and have a nice Fellowship Hall recently refurbished and now set up to hang pictures or crafts. The church will take 20%, artist keeps 80%. Each exhibit will hang one month. There will be an Opening with refreshments provided by the church. It will be open for viewing before and during performances, Mornings 9:00am to 12:00, Sunday 1:00 to 3:00. They will advertise and have a sign outside. I'm in charge right now and I'm looking for anyone who might be interested in having a solo Exhibit, or maybe one with a friend. At any rate I'd like to fill the calendar through December. Email me if interested. And Spread the Word.
And last but not least, our September 9th meeting will be a Scavenger Hunt. You must take a picture of at least 12, all 15 if you wish, put them on a thumb drive and get them to me by August 31st. Pictures In the order they are listed please. I will organize them and we'll show them at the September 9th meeting. There will be some prizes for the effort. You have all summer to do this, best if not left till the last moment! This is a fun project and really fun to see how each photographer sees or interprets the items on the list. You will find the entries are very different from each other and very creative.
Let me know if you have any ideas for small group topics or workshops, or speakers, or programs. I value your input.
See you soon- delivering photos or on one of our adventures!
Dottie
March 6th, 2019

Another Fun Meeting for PCCM.

On March 4th our theme was Travel Photography. Lew Gayner, from Centreville, MD, was with us to share a trip he calls "Around the World in 65 Days". He and wife Shirley planned an extensive trip and ventured on their own to Bali, New Zealand, Australia, Viet Nam, Cambodia, Burma and Dubai for an exciting and challenging adventure. It was a fly here with a researched "wing it" few days, anxious to see all they could in their alotted time. The one thing that was set in stone were the flights from country to country because of required visas and the need to tell each government when they would leave. A very different part of the world to wander. Beautiful, each country very different from the other. He showed us the travel camera he likes now. He's using a Sony RX Mark 1, the first iteration of the model, they're up to IV now. His is 24-200, the latest is 24-600. All do Video. Thanks for coming, Lew! Unique and interesting! And yes, that New Zealand sheep is magenta!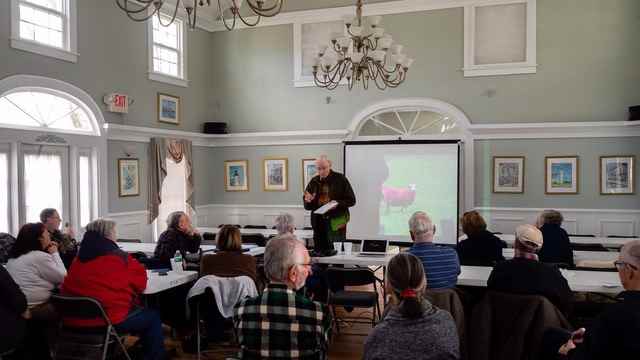 Then Ruth Kulisek shared her amazing travel gear with us. She's a hiker and goes kayaking in some crazy water situations, so she has created a way to have her camera ready to go but safe from the elements that is creative and works in extreme conditions. Her camera is safe and ready to fire, her hands can be free to hike or paddle. Wonderful!! Dottie shared a backpack she took to China that is slash proof, swipe proof, light as a feather, holds everything you need for the day, including camera "stuff" and rolls up into a small tuckaway. So small she couldn't find it. Hopefully before the next trip! Thank you Ruth!!
Our Hotline is functional. For new members who ask, what is that, why bother? It uses a messaging app called WhatsApp which is separate from your regular messages. So you'll need to get the app and let Melissa or Dottie know you wish to be included. It is a way to send a quick message to members there is something special you can/must/should try to see/capture. For example, if someone sights a Snowy Owl, an unusual bird, an eagle coming back to one spot repeatedly, the Monarchs Roosting, the birds arriving at Ocean City Roosting for the summer. And so on.
Not for personal chatting, but for alerts and Heads Up moments to catch a very special photograph. Thanks Melissa for getting this up and working!
PCCM has the opportunity to be part of an Exhibit for this tourist season at the Physic Estate Carriage House. MAC (Mid Atlantic Center for the Arts) wants Pictures of the Cape May Lighthouse only.
For Dues Paying Members Only. I have a list of those interested. Good number already notified me. But let me know if you might be interested. Might need more at some point. Photographers can make some money.
Here's the Scoop. And we're serious about the details.
Pictures must be framed and ready to hang- wire required. No restrictions otherwise. Any color frame, matted or not, only size restriction is that it must not be larger than 45 inches wide,
For sale. MAC, the Sponsor gets 30%. Photographer gets 70%. The exhibit will run from May until the end of September.
If something sells, it will be replaced from what is on hand.
I'm suggesting each person interested get me 1 to 3 photos by April 14th. Absolutely no later than 5:00pm.
On an index card (preferably 3x5) list:
Photographer's Name
Name(s) of Picture(s) entered
Price of each
A Brief Biography of the Photographer is required as well, not on the card necessarily, but MAC needs that information for a booklet they'll have on hand for visitors to look at.
I'll make a master list and will take the pictures I have and the information to MAC on the morning of the 15th.
There will be an Opening, not sure of the date yet, but late April, when the exhibit is up and ready for the public, and it's usually very nice with refreshments and a speechy intro to the public.
This is a big deal in Cape May…. Things at the Carriage House. And we are major lucky to be included. I'll email those who expressed interest. Proud moment for PCCM! The whole club should go to the Opening!
We've (PCCM) been invited to attend the Annual Banquet that the Photographic Society of Vineland is having March 21st, at the East Lynne Golf Course, 6:00pm to 10:00pm.. I feel so complimented they would include us. I plan to go, and we have 6 or 7 PCCM members who are members of both clubs that will attend. How great to be part of a growing community of South Jersey photographers who know each other, enjoy the common interest, and more and more often bump into each other having a nice photo experience. The dinner menu is really lovely and the speaker afterward as I understand will show some of the winners of their competitions for the past year. It should be an interesting and fun evening. Please contact Gary Pitel rdoc29@gmail.com if interested by this Friday. Cost is $35 pp.
I saw a segment on Good Morning American recently about a theater in Lansdowne, PA, they are trying to save and restore. It is on the Abandoned America list of architecture. I called Mark Schultz and asked about our group going for a shoot, and they do allow photographers to do that. However it is $70 a person for a 3 hour time limit, so not practical for us as a group. They have a minimum number of 4 for that type event as well. I'd like to do it. Can I find 3 other people in the club who might be interested? I was thinking mid April or June. Let me know if interested. It's near Philly and a 2 hour ride from Cape May. Email me if interested -dottierogers2@gmail.com
I still have a couple large and medium sweatshirts available and 2 hats to sell. I'm sending in a new order for sweatshirts after I send this out. Let me know if you want one ASAP. Everybody who has gotten one has been very pleased with the quality and soft feel, even after washing.
Upcoming Events – Please check our Upcoming Events Page for the latest info. We'll update locations, times and dates as they evolve. April and May are already busy so mark your calendars now.
Thanks for your support!
Dottie
February 7th, 2019

2019 off to a great start!
Don't forget to pay your dues. We're a busy bunch and we need your support!
Bring them to a meeting or send to Dottie Rogers,
201 South Broadway, Cape May, NJ 08204.
Make check($30) out to PCCM.
Monday's meeting was at night so we could try our hand at Still Life Light Painting. In the darkened room Scott Wheaten wowed us again with his PhotoShop wizardry and patient post processing. Then some of us tried our hand at light painting objects or still life's we put together and I must say, it was fun and very different illuminating things in the dark. Even without the post processing we'll try later, they were beautiful. Thank you, Scott. You enlightened us (oh the pun!) and it was a challenge! I learned also I have lots to learn about post processing!
On February 20th, our small group meeting will be at 201 South Broadway, CM at 1:00pm. We will have a workshop and play with bottles. I'll have 6-8 stations set up and 3 to 7 bottles at each place. We'll try our hand with glass. It's a challenge because of the reflections and streaks of light you capture. You know I have oodles of bottles, lots of different colors, shapes, old, newer, tall, small, plain, some with markings. We'll start with the bottles I put at each station for an hour. I'd like us to move from station to station the first hour, then we'll mix and match and see what happens. They'll all be very different. Maybe I'll ring my bell. I hope we have a sunny day because I get lots of natural light in my house. But bring your flash or flashlights with you as well and tripods of course.
On March 4th, 1:00pm at the Clubhouse our theme is TRAVEL PHOTOGRAPHY. Having been to China where I was 1 of 2 who used a camera, everyone else used their phone, I thought it would be interesting to hear your thoughts and ideas on what you travel with. Many of us have traveled the last several years and we'll have fun exploring new trends. To start things off, I asked my brother, Lew Gayner, from Centreville, MD., to talk to us about his latest trip and show us the camera he is using and swears by for travel now. He has been in photography forever and has traveled everywhere you can imagine. His talk is called: "Around the World in 65 Days" and it is a marathon zoom from New Zealand to Australia, to Myanmar, Cambodia, Thailand, Dubai, etc. 17 flights to make, then find special places they wanted to see on their own. And he'll talk about the camera he loves for travel. I'd like people who travel to tell us your feelings about carrying our big guns on trips. And I'd love you to meet my brother.
May 15th 10:00am-12:00pm I booked a Private Walking Tour for our club of Philadelphia Mural Art. We will start at the headquarters, on North Broad Street and park there. It is an easy 2 mile walk and we'll learn from our guide about the neighborhoods, the history, and the artist(s), and stop at ones we can photograph. We'll end up for lunch probably at Reading Terminal. Some of us may stay a few hours in the afternoon and explore a bit more. There are 20 spots, the cost is $18 per person. Dues paying members have first choice, then spouses, then we'll open it up to others if need be. We'll car pool. This is a go if sunny or even cloudy, but if it rains we'll postpone. Please email me if you are interested. 9 people signed up at the meeting.
We have a membership list about ready to hand out. Please let me know if you do not want your email listed or phone number. This will be so nice to have, for when we want a friend to go out shooting with or to car pool.
I'm about to order a few more sweatshirts. If you want one please email me and I need the size as well.
My son helped me set up a Hot Line for our club. It is a text chat line of sorts. Birders do it, we can too. We need to be able to Alert each other if we see something cool to shoot. Like when a snowy owl is sighted, or when the Birds arrive at the Roost in Ocean City, or when the Monarchs Roost is Cape May Point or the sunflowers bloom on Rt. 47, or eagle sightings. If you want to be part of this Hot Line, send me your mobile phone number. This is for Dues Paying Members Only. You cannot add a friend. You can however chat on it yourself. When you see something you can blast it out just by texting your photo friends in the club. I have already gotten 11 people on it who signed up Monday night. I'm having trouble with 6 people. I'm working hard to work through the problem. iPhones automatically can text (iMessage). Androids need a little nudge evidently. Or to get the two talking to each other. Once we're all on, it will be great!
I/We need Lu Ann Daniels information. Email, phone number, etc. Can anyone help?
Thanks for your help and support!
January 9th, 2019

Another really fun meeting on Monday at the Willow Creek Winery. A perfect relaxing start for the new year. Eric and Karen always provide an entertaining and informative program. The equipment they carried with them was amazing. And I'm hoping all who wanted to, got to take pictures with or without their lighting. The room itself is fun to explore. Keep the photos coming! I love Jim Brennan's one of Eric taking a photo surrounded by the lights.Thank you Eric and Karen!! We love the time you spend with us. And I loved that people stayed around, had a glass of wine and finished off the horderves. Fun conversation.
ezmemories photography
Thank everyone who paid their Dues and got their Sweatshirts. Helps the treasury!! The club made a bit on each sweatshirt, so thanks. I have some hats and a few sweatshirts left for anyone who wants one. (2 medium- that's what I wore- and 4 large sweatshirts. And 6 hats. Sweatshirts $22 and Hats $16) I can put in another order if need be. Dues are due by March 1st. Thanks!!
I just booked a private walking tour of some Mural Art of Philadelphia. I think most of us are familiar with the wonderful murals dotted all around Philly. They've become quite famous for the idea and the works of art. We discussed it at the meeting and enough interest was expressed that I felt confident we can fill our quota and have a really good experience. It will start at the Academy of Fine Arts on Broad Street and it is a 2 mile relaxing walk among the Murals. There are more than 40 in that area, but the Guide will pick ones we can photograph well and will tell us about the neighborhood, history, what's in the mural itself and the artist. It's $18 per person. (that's really a good price for their tours) Limited to 20. Dues paying members have first choice, spouses next, then we'll open it up to guests. We would need to carpool and park at the Fine Arts Building. We'll end up someplace for lunch. Some people may want to stay and wander a bit more, some may want to leave and go home after lunch. No need to sign up yet. I'll let you know when. But it's booked. Unless it rains, it's a go. Thanks for your input yesterday.
We may gather someplace convenient for the Full Super Blood Wolf Moon (Is that ridiculous??) on January 20th. And on January 21st there is a total Eclipse. Keep a watch for more details on both. The Super Blood Moon is nice as it comes over the Horizon, so that would/could be early. The Eclipse is like 11:00 to 2:00. So we'll see. I'll post any gatherings.
Happy New Year to you all. Help me make this the best year yet for the Photography Club of Cape May. Email me any ideas you have or helpful hints or speakers. Appreciate your input always!
December 12th, 2018

15 members of PCCM had a wonderful time at Cherry House today! Oh, my, what a treasure it is and we took hundreds of pictures. Thank you Beth and Frank Acker for letting us view and capture amazing Christmas antiques and decorations!! Every inch of this house is decorated, but trust me, even without the decorations it is wonderful. We'll post some images soon to show you. Thank you so much. Cape May's finest in a nutshell!

December 5th, 2018

First of all, I must say….
I came home still excited and overwhelmed at how wonderful our meeting last night was. Dinner was great and the videos were absolutely amazing. Each one was unique and each one showed the photographers personality and heart. Several members produced their first "show" tonight which is what we hope will happen. Thank you one and all for your effort and for entertaining us in such a special way. Thank you Rich Beecher, Ruth Kulisek, Mary Scarpetta, Suzanne Mancus, John Kapusnick, Richard Zickerman, Bob Finlay, Lucy Seaman, Dennis Abriola, Allison Kashon, Rob Stambaugh, John Schneidenbach, Jim Dixon, (and me) for taking the time and making the effort to bring us such amazing videos! They all were great!
Thank you! Thank you! You all won an Emmy.
And I have to thank the people behind the scenes who make things happen. Phyllis Graham and Melissa Graham-Bailey always come to help set up and stay to clean up. Bob and Ken and John and the guys magically make things clean up. Do you know that Lucy met me at my house to help on that end. Ruth and Bob are tech angels. That's what makes PCCM so strong. Helping where it's needed- quietly. Thank you. Thank you all!
And we have more hats if anyone wants one for yourself or as a gift for Christmas. ($16) And we're putting in an order for sweatshirts. I wore a sample last night and they are very nice quality. They are dark blue with the symbol on the left. ($22). If you don't want to have a fashion crisis the day of our meeting, wondering what to wear, buy a club sweatshirt. Email me if interested and tell me the size. They are unisex sizes. The club will make a little bit on each one. I'm going to order some tomorrow- Weds. So help me order the right sizes to suit all.
Coming next for PCCM.
Our shoot this month will be December 12th, 9:00am to 11:00am at the CHERRY HOUSE, Historic Home regularly on the house tour scene in Cape May.
Address: 637 Hughes Street. We will have the run of this amazing house decorated form first to third floor for Christmas with antiques and family treasures. The
club will give them $50 because they donate all they get to MAC or the Kiwanis scholarship fund. You can kick in $1 if you want. If you attend, you must commit to sending me at 10 of your best shots which I will compile and give to them on a thumb drive. That's the catch. If you participate, you must promise to give me 10 good shots I want to give to them. You can just email them to me. Google Cherry House. Their house is amazing. You'll love it. This is Rain or shine.
January 7th our speaker is Eric Weeks, (and probably Karen Michael), who will demonstrate and lead us through the complex world of Commercial Photography. He wanted to do it "on site" so We will meet at Willow Creek Winery, 168 Stevens Road, Cape May at 1:00pm sharp. We'll get some topas and their wonderful bottles of wine (with a Rooster) and watch, then try our hand at capturing food in a special way, ie food, colorful wine bottles, wine barrels, shiny bar, fireplace, etc.!
Meanwhile- Please let me know if you want a hat, or sweatshirt, and if are going to the shoot at Cherry House. This time I want a head count. If I need to, I'll divide the time in half so we can maneuver and take the pictures you will want to take nicely.
We have good things coming in 2019. Help us keep active and interesting by paying your dues, anytime January-March 1st.
Thank you All! And Happy Holidays!!
Dottie
October 19th, 2018
Sorry it's taken me this long to pass on news about our meeting for November. Things have been evolving and I wanted to be precise.
First and foremost Tony Sweet has postponed his time with us until April. (I suggested the first Monday or 3rd Weds as dates.) He was very slow in answering my notes to him and I knew he was having problems. He used to come to Cape May and relax a few days in October, but he said "We have so many things coming up here right now, I just can't think." So we delayed his talk and workshop. I'm reaching out to local people we love to share something with us and I'll let you know what happens.
We will meet on November 5th at 1:00pm at the Clubhouse. Speaker TBA.
And I'd like to set up a Lightroom Workshop Thursday, November 8th, at my house for anyone interested. 6:00pm. Topic: Graduated Filter and Adjustment Brush. Bring your computer and questions. And bring some photos you would like to work with.
On December 3rd, 5:00pm, we will have our Pot Luck Dinner and Members Showcase. BYOB. It's a fun evening. I already have one show because Rich Beecher is going to be in Israel for a month and can't be with us. He has given me his thumbdrive to show. I'm going to do "People of China" and I'm putting together the photos from our Forsythe Challenge Day. Still not too late to add a few of your images from that day if you have them. Just email them to me and it's done. If you need help making a slideshow let me know and we will help you. It should be 3-7 minutes long, any topic you choose. If you want music in the background Bill Riches can help. He likes to have your thumbdrive a week before that so he can organize things. That means shortly after Thanksgiving you need to drop your thurmbdrive off at my house (201 South Broadway, CM) or Bill's (2 Springers Mill Road,CMCH)
My Granddaughter is being married in Cape May November 17th. It's a fun event, but a little scary. This weekend we're building or putting together the arch for the ceremony. So if you come here for anything, don't be
surprised to see white ribbons, bells, the arch in my living room, etc. Fun time in our family. First Grandchild to be married and it's here in Cape May. How lucky am I?
Dottie
August 28th, 2018

Hi all! Not your regular blogger here as our intrepid leader Dottie took a tumble and injured her typing hand. The hand is doing well but she is also getting ready for a big, exciting and long awaited travel adventure that she'll tell us all about photographically in October. So I'm here to fill in this summer and keep the blog rolling until she returns.
Summer has nearly blown by but before it leaves us in its scorched earth path, we still have lots planned for the last few weeks. Please check out the Upcoming Events page.
We now have hats with our club logo embroidered right on the front! These are great quality ball cap style with a very nice color combination and logo design too. So do wear yours proudly to club outings and whenever you're in the sunshine. Dottie says they've sold out but I'm sure we can get more if the demand is there. Other items with the club logo may be possible too so think about the possibilities. Thanks to those who designed and got them made.
Back in June, quite a few of us got out to shoot photograph young shorebirds in the Ocean City rookery. Nice to see many amazing photos on Facebook. These birds are colorful characters and real posers and the vantage point can't be beat. Maybe we can make this an annual club thing in the future.
July and August were very busy. Early July saw some of us out shooting the crowd at the annual Whale of a Day street event right out in front of the clubhouse where we usually meet. Our hosts, The Cape May Beach property Owners Association, put on this annual event to fund scholarships and other worthy causes. The CMBPOA would love to have some photos if you have them to share.
We finally got to visit astrophotographer Mike Keith's observatory on a dark, clear night near Bellplain Forest. What an amazing array of telescopes, computing and photo equipment Mike has assembled! From here he makes the incredible images he shared with us last March. We thank Mike for sharing his passion, knowledge and skill with us.
Dance photographer Suzanne Kulperger lead a group of us on a shoot right on Washington Street in front of the iconic Star of the Sea Church. Using the unique local architecture as a backdrop, she directed a young dancer/model through amazing poses and dance moves to provide our photographers with great photo opportunities. Lots of beautiful photos were made. Thanks Suzanne and our model.
A few of us were able to display and sell photos at a new art exhibit and silent auction in the Cape May Presbyterian Church. Hopefully the event was an overall success and will be repeated next year. It pays to have your prints ready to show!
In what's becoming an annual event for us, we had a fun early AM sunrise shoot under the Avalon Fishing pier aka "Buns on the Beach" for the coffee and donuts Dottie brought along. It was a beautiful if partially obscured sunrise so we used props and the local talent hanging around (in hammocks) to model and add interest. A very nice member turnout and a few newcomers too. Hope to see you again.
A photo op coming up at Cold Spring Village on Sept 15 & 16, 10am to 4:30pm. Civil War Reenactors encampment. They may also act out a skirmish. Lots of people to photograph.
Some members have been asking to do a night shoot along with some light painting. Maybe sometime in October? Lets talk at meeting on Sept 10.
Photographers and friends of Photography Club of Cape May Dave Woeller and Tom Holding are premiering their work "Shattered...Portrait of a Glass Factory" at the Levoy Theater in Millville on Sept 19th. Their exhibit is opening at the Riverview Renaissance Center for the Arts, 22 North High Street, Millville on Sept 21st for one month. Admission free. Great photography and stories of the shuttered Millville glass factory which normally is inaccessible so this should be a treat.
The end of year party featuring your slideshows will be here before you know it (Dec 3rd). If any members would like to have a small group Lightroom Slide Show workshop before that let us know at the next meeting or via email.
Got any other ideas for learning, sharing photo skills or photo shoots? Bring them up anytime via email or better yet at the next meeting.
Finally, if you have any club activity related photos you would like to share right here in the Portfolio section of our website, send them on to Jim Brennan and he'll be sure they get displayed.
Next meeting Sept 10th. Hope to see you then. Guests and those who would like to join the Photography Club of Cape May are always welcome. Keep up with us here and on Facebook too.
Keep cool,
Bob
June 6th, 2018
What a fun meeting Monday. Frank T. Smith wowed us with wonderful images showing architecture as he sees it through his artist's eyes. He is one of only 12 Olympic Visionaries, travels the world, and Bob Finlay
noted he was the Keynote Speaker this year at the PSA National Conference! And then he came to Cape May! :-)
He said his clients used to want realistic and true to form pictures, but now they like more artistic work. So his creativity
goes to work composing and desi
gning what he wants us to see. Interesting!-He uses Lightroom for 80/85% of his post processing. Post processing is major for him. And he uses a Fisheye lens often to get the effect he wants. The other thing that is special about Frank is that he is a genuinely nice person.
Thank you Frank!! for coming to Cape May and sharing your expertise and creative angle with our group!
Olympus Visionary Frank Smith presenting to Photography Club of Cape May, June 4, 2018
We are working on adopting a club logo and possible ways to show it off when we are out together and in our communications. If you have any suggestions on this let Dottie know.
We need some new photos for the Members' Gallery. Send one or a few to Jim Brennan who will get them included. No deadline as this is ongoing. Photos should be sized to 1200 pix on shortest side. Apply your signature if you wish viewers to know who made these remarkable photos!
If you have photos from last month's club shoot at the Forsythe Wildlife Reserve, please get them to Dottie for inclusion in a slideshow to be shown during a Fall meeting. the challenges were Macro and Birds.
Lots of activity coming up this summer so check the Upcoming Events page frequently and as always look for HEADS UP emails from Dottie.
What a great and active year so far and we're not even half way through it! Amazing speakers, fun shoots and lots to look forward to!
May 31st, 2018

My daughter says, "Ma, you can't say you're going on a SHOOT (these days). You should say you're going on a PHOTO SHOOT. You could be arrested!" 😊 I should be more careful.

Anyway, we had a great time at the Eastpoint Lighthouse. Nancy Patterson Tidy has done an amazing job of leading the charge to renovate that historic site, inside and outside. And she's had an uphill battle to get funding and help. The lights were on and the shutters open for us. It makes a big difference in the appearance. Thanks Nancy and Carl (her husband) for your hospitality! I gave a donation in the club's name.
I'm going to include some pictures from our Facebook page so you can get a feel for this special place. The first is a picture of a picture taken in 1913. The Lighthouse has always been white.
Some have wondered.
Thanks to all who went. We ALWAYS have fun.
May 9th, 2018
We had a wonderful time and turnout for our Shoot at Forsythe Wildlife Refuge. This is a sanctuary that contains fresh water and tidal saltwater marshes, an 8 mile drive, several walking trails, platforms for observation and an education building. It is huge. We met for coffee and donuts at 8:30, then lunch and social time. Lots of photography, travel and gear talk. Oh, my this was a wonderful day. This was a CHALLENGE WALK. One challenge was Macro and the other Birds.

We walked the songbird trail and it was truly noisy and peaceful!

Everyone who attended was/is invited to send me 10 pictures which I will put together in a slideshow to show at a meeting in the Fall.
April 11th, 2018

Spring must be here!
We had a really good turn out for the meeting Monday.
Kevin is popular!
Kevin Karlson presented beautiful images and thoughts with an overall view of one of his books, Images, Earth's Elements in Bird and Nature Photography. He shared images representing Earth's Elements- Earth, Water, Fire, and Air. Club members Tina Giaimo and Don Merwin have some of their photographs in the book as well. He included quotes and lines from literature that were inspiring and interesting with music in the background. It was inspirational and beautiful. Thank you, Kevin Karlson for a lovely couple hours. Tina and Don will order some copies of this book for their shop and let us know when they come in. Some of us would like one.
Heads Up for activities for PCCM you won't want to miss:
On May 7th a Field Trip to Forsythe Wildlife Refuge is planned. This is A CHALLENGE WALK, (as suggested by Jamie Konarski Davidson when she was with us in February. We will meet at 8:30 at the picnic tables near the parking lot for coffee and donuts. We'll hand out a map and divide up, some taking the 8 mile driving route, some walking the trails. Some may be doing both. A simple Lunch will be available at 11:00 at the picnic tables. If you are busy and can't make it back at that time the lunch will be in a cooler waiting for you. The CHALLENGE is to take macro/close up pictures on the trails or birds on the drive. Or both! At the end I'm asking everyone who participates to send me 2 to 10 images I'll put together for a slide show which we'll enjoy at a later meeting-- Not a requirement. Don't stay home because you are shy about having to show your pictures on the big screen. Please come and enjoy the camaraderie and learn something new! We are going to be flexible. If Monday the 7th turns out to be a terrible day, we will make it a day that week that seems best.) This is the beginning of our outside activities we enjoy so much.
On June 4th, 1:00pm, Clubhouse, our speaker will be Frank T. Smith from Olympic Visionaries. This is a big deal, folks, and we will spread the word he is coming. Frank is a travel, landscape, architectural, and philanthropic photojournalist from Center Valley, Pennsylvania. The Olympus Visionary program is a program for Olympus sponsored photographers, so he'll share some of his love for those innovative cameras and equipment. They travel the world and use their technical expertise and unique experiences to inspire photo enthusiasts to try Olympus products and learn new techniques. His equipment is less bulky which he says allows him to get into places other photographers can't. And it is especially good in low light situations. So it will be great to hear what he has to say and show us. Google Frank T. Smith, Olympus Visionary or check out his website at http://www.franksmithphotos.com to see his Gallery of photos that are amazing.
June 18th, Workshop with Kevin Karlson. Clubhouse, 1:00pm to 4:00pm.
He'll send a flyer/announcement page that explains what it is all about, among things to bring a few pictures we will look at the second half and make suggestions.
Cost- $10 donation per person, which goes entirely to the club, not Kevin. That's what he wants. He insisted.
August 16 "Buns on the Beach" (Or the first nice day that week) (low tide 6:26 and sunrise 6:13) Meet at least half hour before dawn to catch the sunrise through the Pier. Bring a few props if you want for post sunrise fun. I'll bring a few really nice large shells, my colored glass balls, one of my large glass bottles and maybe an umbrella.
Donuts and Coffee on the beach at 8:00am. Be sure to bring your beach chair…..
So watch for Heads Up Email Announcements and the Upcoming Events page here on our Photography Club of Cape May website.
Late May and Early June- Dawn shoot when the birds return to the Rookery at Ocean City Visitor's Center. Anne Harlan will watch for their return and shortly afterward we'll go. And we'll take another time to visit when the nests are full….This is a such wonderful place to zoom in on the life in the rookery. We do not bother the birds. We are a good distance away and can use our tripods.
July-Visit to Mike Keith's backyard observatory. I asked him if we could come see his set up and he suggested mid July because "There is lots going on this summer in the sky." He'll study the data and let us know a good time. This will be a very late night activity, but unique experience. Those who did not see his presentation should know he takes pictures of the cosmos. Honestly. He has cameras and scopes and a building with a roof that slides so he can really take photos of the universe. I'm not missing this opportunity. We'll car pool.
We are planning a Skimmer trip for our group (Craig Phillips and Anne Harlan will help me with details-) We think the best time will be later summer or September to catch the migrating birds, but the laughing gulls nest earlier. We are investigating which we think will be best for photographers. We might have to catch one this year and one next summer. Both are so appealing. There will be a fee, but more reasonable than usual because of the group. It is a fun outing and we'll catch a few shots as well!! (We can bring wine and cheese and cookies and Tea!) We'll figure it out so it's just our group.
I'm working on Speakers and workshops for July through December. If you have any ideas or leads, please let me know.
Happy Clicking
Dottie
March 6th, 2018
WOW! Mike Keith blew us away last night with his Backyard Set Up and Images of our Cosmic Neighbors. He actually has a small building on his property that has a roof that slides to open to the sky and he really does take pictures of comets, planets and nebula. His images take an hour or four to capture! So patience is added to all the other skills required to be this kind of photographer. Hats off to you Mike and thank you for sharing. We were all dazzled and in awe. I asked him if we could go to see his "Lab" and he welcomes us. He suggested waiting till summer and we'll be able to see him at work and see the world through his scopes.
We will do it! It was beautiful!
Thank you, Mike!!
Dottie
We have more wonderful speakers and activities lined up for the months ahead. Please check the Upcoming Events page and watch your email for details as some things are not yet firmed up. If you have ideas or suggestions for speakers, workshops, photo shoots or other group activities please let Dottie know.
We have another Beginning with Lightroom small group signed up for March. We limit these to 4-5 members per session so do sign up if you would like to learn how to get started with Lightroom and we'll schedule another group.
Just a reminder that annual membership dues ($30 single/$50 couple) are due this month. You can mail a check payable to Photography Club of Cape May c/o Dottie Rogers, 201 South Broadway, Cape May, NJ 08204
February 5th, 2018
Happy Valentine's Day Everybody! Let's hope Hearts and Love take over the World this year! Right?
Our speaker for this month travelled all the way from North Carolina to be with us. Thank you!! Jamie Konarski Davidson for sharing your expertise and creative art with PCCM. And She said, "Lots of us are afraid nobody will like what I do." Her comment. "You spent all that money on great equipment so you can produce only what other people like? No, you do it to discover what YOU like. And whatever it is is wonderful. Build on that." Jamie likes close up and Macro pictures primarily in nature. She does infrared photography but it ends up with colors she sees/likes. She says whatever you do it is your job to interpret things as you see them or like them. And she does a lot of in camera manipulating. In the field creating. She does not depend on technology to create her images. She stressed there has to be a Balance between Technology and Creativity. She suggested a Walk/Find Challenge for our club. We'll try it in warmer weather! Thank you, Thank you, Jamie! Inspirational! We had a bit fewer people than usual- some Eagles game left overs I think🙃🙃
Things going on this month: Heads Up!
March 5th Meeting 6:00pm at the Clubhouse
Speaker Mark Keith

Topic: "Photographing Cosmic Neighbors"
Mark specializes in Astrophotography, has a backyard observatory. His photos are amazing and he'll share how he accomplishes his images.
ALL OUR NIGHT TIME PHOTOGRAPHERS MUST TRY TO ATTEND. Maybe we can make a date and go see his equipment.
April meeting will be moved to April 9th because of the Holiday weekend. At the Clubhouse.
Speaker Kevin Karlson will be back and present his favorite! "Visions: Earth's Elements in Bird and Nature Photography.
Then he suggests a Workshop "Advanced Photography." Details later.
February 7th "Getting started in Lightroom" Bob Finlay will help small groups get started. This is the first workshop. We'll have more as need arises in groups of 4.
February 27th 6:00pm to 8:00. Workshop at Cape Winds Florist, 860 North Broadway, Cape May. Limit of 10 (Dues Paying Members).
Dues are due by March 1st. Please bring to a meeting or mail. We depend on our dues to bring in speakers for talks and workshops and run small group meetings and field trips. Please support PCCM and our effort to provide challenging and diverse programs to photographers in South Jersey, and help us provide a forum to meet and support creative people/minds.
Make checks payable to PCCM
Send to: Dottie Rogers, 201 South Broadway, Cape May 08204
$30 a year for one, $50 per couple
January 17th, 2018
About 14 of us popped around 201 South Broadway with creative juices going wild. We had 7 stations set up in the living room, dining room, kitchen, pantry, TV room and office including 2 light boxes, 2 flat light boxes and cubicles, a card table and because of where the light was a flat space here and there as well. Everybody grabbed combinations of veggies or fruit and for 2 or 3 hours shot picture after picture. Every once in a while we'd hear a Whoa! Wow! or Fantastic! and we'd go see what was happening, what was special. We all agreed it is a great winter activity. Check out some Gallery images that have also been posted on our Facebook page. You're welcome add your photos - just email them to Dottie Rogers. Small group meetings are really fun!
January 14th, 2018




2018 Dues are due by March 1st. ($30 indidvidual/$50 couple) Please consider getting them in soon so we can forge ahead in our efforts to provide stimulating and interesting programs for the coming year. And some of us cannot attend meetings regularly, but believe there should be an active photography club in the Cape May area. Please consider joining our group to support our effort to bring good speakers here and have a place to meet people who are creative and eager to learn and improve our skills. Invite newcomers and friends to attend meetings and enjoy the comraderie and conversation.




At our Dine and Discuss meeting several good ideas came forth.

We'd like more activity and interaction and photos to be posted our Facebook Page. Keep the pictures coming and ask questions often. Takes effort, but it is worthwhile.

Fewer venues for Exhibits are available these days and those that happen are not doing so well as they used to. People seem not to be spending hard earned cash like they did. We'll keep looking, but it is a

lot of work for much less profit. Your thoughts are welcome (

dottierogers2@gmail.com

)

Some suggestions for our Shoots. Have a few designated people volunteer at each shoot so members feel free to ask questions and learn how to get good results.

To help less experienced members, consider having a buddy system so each member feels comfortable asking questions and learning new things. Perhaps we as a club could purchase some instructional videos to show in small group to help beginners with basics.

Want another Shoot at the Florist Shop in Cape May.

Want another Shoot at the Orchid Greenhouse.

Try some Street Photography- the mall, beach.

Or Sport photography unique to Cape May area like Surfing or Life Guard Racing, or Kites or Marbles Tournament on the Beach or Clam pitching.

Feel out the Garden Club of Cape May to see if we could set up an area where we could take pictures of the entries for those who want it and share with their club.

Perhaps go together with the other 2 clubs in our area and bring in a speaker or 2, pooling our resources. Or socially get together somehow.




Good

discussion and nice company. Thanks everyone. See you soon.

Dottie
December 13th, 2017

It was an extraordinary dinner at Photo Club December 4th. We had a really good turnout for our Members' Showcase Extravaganza. What an amazing variety of topics and creative styles! Thank you one and all who took the time to share special moments this time 2017-Thank You!! Craig Phillips, James Daubert, Jim Brennan, Bob Finlay, Ruth Kulisek, Jim Dixon, Eloise Boccella and Jimm Ross, Lucie Seaman, Richard Beecher, John Schneidenbach, and D. Rogers will surely be nominated for an Emmy. Maybe we can give our own award next time (a PCCMy-😏)! Thank you one and all who made all the delicious food, helped get things ready and clean up. A special THANKS to Bill Riches for putting on the show and making us look GREAT! Seriously, THANK YOU! This was a fun evening and I'm always amazed and proud of what you do.
We might consider having a small group meeting or two in 2018 to show those who want to participate how to make a slideshow. It's really not hard and we'll coach each other. Anyone interested in learning?
We have a great slate of events already planned for the first half of 2018. Check the Club Calendar and save the dates. We're still working on a few more and will announce as they firm up. As always, check your email too. Got ideas for activities, speakers or programs? Let us know.
See you all in the New Year,
Dottie
November 6th, 2017
Award winning Photographer Andrea Phox told us about her amazing Exhibit called "SHINE 100 Women of Long Branch". This was an idea created by Andrea and Lisa Kelly the librarian of the public library in 2015. The work of photographing 100 local women took 2 years to complete and shows women of diverse background, work, race, color and creed. The goal was to bring a group of women together who probably did not know each other and work for the good of the community, perhaps eventually bonding. The end result is an eclectic group of photographs that show the heart of Long Branch. Stories of the women vary greatly and so do the portraits. 3 "Mermaids" came with Andrea and told of some positive things that came from being in the show. Kudos to Andrea for her work and to the 100 women who will forever SHINE. Thank you for sharing!!!
After the presentation at the clubhouse, Andrea, the 3 Long Branch Mermaids as models and 12 members of PCCM went to Congress Hall to practice portraits. We went in the Brown Room or bar, the dining Room with it's black and white checkerboard floor, the Boiler Room club downstairs, the porch with its columns and chairs and tall windows, the stairway with it's light and window box. It was a challenge because the lighting was very different in each place and the colors and shapes around different as well. Andrea shared a ton of ideas on using speed lights for those who had them. It was really fun and a Coup with a capital "C" to be there… I'll share a few pictures from the day from our Facebook Page. They will also be in our web gallery Shine 100 Women of Long Branch Shoot at Congress Hall. AND PLEASE…if you would like some of your photos added to this gallery or any of our other galleries, email jpg images to Dottie. The picture portfolio page is slowly growing and looking good!
Our December 4th meeting is our annual Christmas party and show starting at 5:00pm the the Clubhouse. It is our annual Potluck Dinner "Membership Showcase". Bring your spouse or best friend. It's a fun night. We plan to show 5-6 minute slideshows put together by members. We've decided on any topic you want, (not just in your county as previously announced) just some of your favorites from the past year or perhaps some of your best travel shots or portraits. Also, if you made something cool but non-digital like a book or a print or something "crafty," bring it along and show it off.
Full details on the party here.
SEE YOU FOR OUR CHRISTMAS PARTY!
DOTTIE
October 7, 2017
So…..We had a delightful, beautiful day in Dennisville on October 2nd. Everyone was helpful and welcoming. The scenes and houses and treasures were everywhere. The history of the area is super interesting. We were lucky to meet many residents and ate lunch under a huge tree in the yard of the Schoolhouse. (First Picture) Link to Photos I wish every single member of our club could have experienced the warm atmosphere and lovely images. Thank you Dennisville for your hospitality!! I will share some pictures with Dennisville via memory stick. If you have any you would like them to see, please email them to me or post them on our Facebook Page and I'll include them. Our thank you gift to them is a donation to the museum and pictures on the memory stick. I'd love to have lots of pictures for them to enjoy. Between Dennisville, the Revolutionary War Reenactment, the Monarchs flying around the Point and roosting, and the Harvest Moon, my eyes are exhausted and my camera burning. How lucky are we to live in such an interesting area.
Andrea Phox is our program speaker November 6th. At the Clubhouse. 1:00pm. She will share with us her "100 Women Exhibit" and bring a couple of the women who are in it with her. I have not heard details of her workshop yet. She is so busy because the Exhibit is being featured again in a nearby Gallery. Opening was Weds. I'll get details on the workshop and pass them on as soon as I can.
Jim Dixon will lead another shoot at the Benjamin Franklin Bridge, November 5th. He'll brief us soon as well. We will shoot sunset, grab a bite to eat at that nearby Pub, then shoot from the ground level, the long view. Please let me know if you want to go. We can car pool.
I have contacted our world traveler, Werner, and asked about planning a Steel Wool Burn. He was hunting for the perfect spot and timing. I'll pass that info on when it jells. I'm hoping he is still willing to do it. It's a challenge to shoot and really fun.
See you soon!
Dottie
September 16, 2017
We had a great time at the Civil War Reenactment at Cold Spring Village in Lower Twp. About 10 of our club were there to see this busy, colorful, enthusiastic group of dedicated people do their thing, which is camp out and play Civil War. This was my first reenactment and I was amazed and hardly knew where to look and snap pictures next. A little overwhelming the first time, especially with a camera in your hand. We never got organized, meaning each person took off running and snapping pictures like crazy. It was a perfect day weather wise which added so much to the experience. We advertised this was a good opportunity to practice portraits/people and it certainly was. I'll share a few pictures that have been posted so farso you get the idea and feeling Civil War Reenactment Photos ……. We will definitely do this again next year. So much fun! And a real challenge in the sun/shade.
Dottie
September 11, 2017
After our business meeting, Scott Wheaton showed us how he puts together his amazing smoke images. He showed us a few of his beautiful award winning prints and then did a live shoot so we could see how he set his lights and background and acquired focus. He used incense matches rather than the familiar sticks (so the smoke would not linger) and shot against a black background with a single flash. Scott then loaded a photo into Photoshop and proceeded thru a basic edit and then some colors and inverted tones. After this he transformed his image into a variety of gorgeous spirals, reflections and rotations with a handful of photoshop techniques. We were all quite captivated by Scott's skills as well as his unique and often complex images.
July 17, 2017
Lots to share after our Business Meeting. I'll try to be brief. But first a few shots from our Hawk Haven Shoot and Social. It was a hot night, but the Vineyard was happy we were there. 14 members snapped away at dusk. Fun evening….. Join us when you can on our Shoots. You'll always wish you had!
Please check the upcoming event dates and email me your suggestions for activities!
People at the meeting seemed interested in a field trip to Longwood Gardens. The water falls show with fire and lights is only at 9:00pm and ends at the end of September. So I'll investigate and we'll discuss at our August meeting. And perhaps a trip to Eastern State Penitentiary. They'd like to do Benjamin Franklin Bridge again and visit the Orchid Greenhouse in Linwood. And there was a request to do another evening at our local Flower Shop for shooting flowers and arrangements. They loved having us. Another Macro Workshop- maybe small group this time???, Shooting Christmas Lights someplace a must. And Jim Dixon would like to get a car load or 2 to go to Philly and shoot City Hall at night. He knows the perfect spot and time of night to do it. I'll do my best to fit all these things in our schedule. Thank you all for your suggestions and ideas for speakers!! I'll keep you posted.
A couple people requested Andrea Phox do another workshop as well. She will and details are being explored. She will have models with her so I'll fill you in ASAP, on when it will be, where, and what she will share with us and the cost. For our new members, we do this type of thing once or twice a year where a speaker talks to our club free for members, but then offers a workshop and charges a fee. It makes their time with us worthwhile for them and we gain a really good speaker. We try to get 8 to 15 people to take the workshop. It's a real learning experience and fun.
Please note members Tina Guiaimo and husband Don Merwin are having an exhibit at the Chalfonte this month. And new member Jimm Ross is exhibiting his paintings at the Mad Batter. Grapevine has it Charles Riter is hanging at Exit Zero's Cookhouse in August as well. Try to stop in and support our friends and members.
Dottie
May 26, 2017
Reminder: Kevin Karlson is coming to speak on Monday, June 5th. This is really going to be a learning experience. His Topic, "Shooting Outside the Box". He's sending me information to share with you and he wants audience participation. Toward the end, he'd like those who will to bring 3 pictures on a thumb drive and we'll pull them up and gently make comments, as he said. We are very lucky to have him with us! Please save the date.We're planning an evening social and shoot at Hawk Haven Vineyard, June 18th, kind of off day for them. The club will provide a couple nice trays of cheese and crackers. Beverages we have to buy there. They close at 7:00pm but we can stay and take pictures after for sunset. Please save that date as well.
More later.
So we had a great time at Flemings Auto Salvage. I mean it is a great shoot! Endless opportunities for creative images. I'll share a few. Did HDR for some. Still processing. We'll do it again maybe in the Fall. No tick problem that I know of. We went with lots of bug spray. Rich Beecher did his in black and white and that was very effective. Watch for our summer shoots!
May 3-4, 2017
DUE TO THE VERY CRITICAL ILLNESS OF TONY'S MOTHER, TONY HAD TO POSTPONE HIS TALK SCHEDULED FOR 6:30 THIS EVENING (MAY 3RD) AND THE "SWEET SHOOT" TOMORROW (MAY 4TH). HE/WE WILL RESCHEDULE FOR LATER THIS YEAR.
OUR THOUGHTS AND PRAYERS ARE WITH TONY AS HE GOES THROUGH THIS DIFFICULT TIME.
PLEASE PASS THIS INFORMATION ON TO FRIENDS AND CLUBS NEAR YOU.
THANK YOU AND TONY SAID "SO SORRY FOR THE INCONVENIENCE."
DOTTIE
So what are PCCM's Small Group Meetings all about?
We have lots of new members and maybe it would be good to clarify and/or describe what we mean when we use that term. Let me try.
PCCM provides many things for members, Speakers, Workshops, Social Events, Exhibits so our members can Sell Their Photos, Challenges, Group Shoots, and once a year the opportunity to Share a Themed Slideshow with the Group. All basically to encourage members to learn and improve in all facets of photography. It also is a place where you can meet like minded, talented, creative people and talk shop, probably become friends. One thing was missing, however, and that was an opportunity to meet in small groups and discuss or learn about a specific skill or tool you as an individual want to learn, or meet with people who are interested in one facet of photography you especially like, or an opportunity to get help when trying something out of the box for you. So we decided to meet the third Weds. of each month in the evening to explore and learn together in small groups, sometime 4 people, sometimes 10, every once in a while 15. It does not matter. If you are curious about something, someone else surely is, too, and someone else surely can help you. At these meetings we usually have someone who excels in that area, sometimes a group leader, sometimes we have a discussion or share equipment, we've had critiques on a small scale. Our plan was to provide a venue and opportunity for members to work toward mastering techniques and camera and computer skills. It is informal, and a huge help because it is Small Group. Anyone can come. So... watch for the topics, come when you can or you are interested, and very important- let Dottie know if you have something you want to learn more about in that format. Remember, the name of PCCM's Game is "Learn and Improve". There is ALWAYS room to hone those skills! Small Group meetings may be a comfortable way for you to do it.
April 3, 2017
Springtime Greetings to You All! I think Spring has finally arrived.
Member David Woeller shared his video about using the brush tool in Lightroom, showed us examples of before and after images, and using the pictures he sent for us to download, he demonstrated how to go about making dramatic changes. Then we took some time to work on a few of our own photos. The Brush is a mighty sword and it was fun to experiment with it as Dave walked around and helped. Thank you, Dave. If you have not pulled up Dave's Website, you should. He has a great Blog going and offers many opportunities for you to learn and improve your skills. We're lucky to have him with us Monday and in our group. Fun day! Now go home and practice everyone! Dave has linked to his video here Lightroom Brush Tool
Bill Horin, Creative Director for ARTC in Millville was with us to share information about a 2 day photo/video event on June 14 and 15 that that organization has organized called "Photo SJ 2017". They say and I'll quote "8 of South Jersey's most talented photographers and videographers will give workshops and presentations, and nationally known wildlife photographer, Charles Glatzer, will be the Keynote speaker." Registration is available through their website. (David Woeller is one of the presenters and his event is the only free thing I saw. It is limited to 40 according to Dave. For more info & to register visit Photo SJ 2017
I wanted to thank Jim Dixon for leading the group to the Franklin Bridge Shoot. It was great to try our luck with the sunset, Philly Skyline, trains coming fairly often to jiggle our cameras and challenge us all. We ate at a local pub and tried the nighttime full view from the ground as well. Thanks so much, Jim! I know individually we'll go back. Safe, easy walk, and pleasant with good weather.
And I wanted to thank Martie Grubb for faithfully providing refreshments at every meeting. Phyllis Graham helps her as well. It's really nice to have tea and crumpets. Thank You ladies!!
I would ask all members to pay their dues so we can plan and carry out a program for this year we all enjoy. And I'd like to encourage all members to spread the word about our group and encourage friends or camera buffs you know to join us as we hone our skills and have fun. We do several things each month, surely everyone can learn from and enjoy something we offer.
More members would help our treasury.
We got organized for our next meeting. Our Tony Sweet talk and shoot. I hope you've seen our announcement. Please save the dates and please every member do your best to attend the talk. It's 6:30 pm at the club, free for members, but we're charging $10 for non-members since we have some expenses. We will try to start on time, but have simple refreshments afterward. To have a nationally respected photographer be with us and support our club is a phenomenon. One way to say thank you is to attend his talk Thursday, May 3rd. I've notified all the photo clubs in our area (South Jersey), a couple Delaware clubs, T&C Camera Shop, put it on our Website, Facebook Page, and News Feeds on Facebook which people are sharing. I will send out a couple more Facebook blurbs as well. The "Shoot with Sweet" is $75 and will be limited to 15. It is an early morning event with breakfast at a local diner. He offers a video critique of 3 to 5 pictures for those who go, I don't think they have to be taken that morning. We'll gather them and send them to him shortly after the event. Pre-registration for that is required. I already have 8 committed. Let's enjoy this special couple days and be proud as a club.
On June 5th we are lucky to have a naturalist who specializes in birds Kevin Karlson coming and he'll share "Shooting Outside the Box". He has traveled the world and gathered photos of birds everywhere. He has images representing most of the major bird families in North America. He has authored several books including "Shorebird Guide" and "Birding by Impression". For his amazing images visit his website and browse his Photo Gallery. Gorgeous! I'm excited to have Kevin with us and learn he considers this Cape May his home ground. Don't miss this event! AND..We talked about having a time to bring photographic items you want to sell after our June meeting a while ago. Let me know if you think this is a good idea. After the lecture we could set things on a table or 2 that you have priced and a few volunteers would have to man.
Our April small group meeting will be 2 things. On Thursday April 19th at 6:30, we're offering a Boot Camp for Lightroom (Booting Up the Program) for whose who are having trouble getting started, and we had a request to go over some basic things in photography so a Boot Camp for Basics reviewing the terminology and skills needed to go places with your DSLR Camera. Now this takes getting members together who can help both areas. So we need a head count. Please email me if you are interested and can attend. dottierogers2@gmail.com If we don't get enough to make it worthwhile, we'll try something individually.
A number of people have asked to go to Flemings Auto Salvage for a Shoot. Harry was very nice. Our group is welcome, I just have to call. I thought it would be good to go on a Saturday or Sunday this time. It's not greening up very fast this year and we need a little color, I think, and with the holidays this month and storms, I'm thinking Sunday, May 14th, rain date Saturday, May 20th. Save the date. In June we'll do something related to our talk on birds/birding.
Avalon Historical Society Photography Contest is coming up. It's usually in May. As soon as I get the notice I'll shoot it out to you. We do very well each year. Several first place awards always.
Our meeting in October is a Pot Luck dinner and our annual Challenge "Shows". I like to get the topic out before summer so everyone has plenty of time to gather images you are pleased with. The theme this year will be Our Own County. We actually voted this time. Pictures must be taken in the county you live in or one county. The idea is, for those who are new, to put together a slideshow of pictures on the theme and show it that night. We call for them a week ahead so our member Bill Riches can put them together and they run smoothly. There is a five minute limit, and you can put music to it and make it as simple or fancy as you'd like. Bill will help you with the music if need be. We love this event. It's a bring your spouse or a friend time. Good opportunity to bring someone you think might be interested in joining our club.
So enjoy Spring. Get out there and take lots of pictures. Share them on our Facebook page, Please!!
Dottie
March 11th, 2017

Hello to All. Welcome to Spring?
Just a few quick notes from Monday's Meeting.
Nicole Albertson, local artist who is a Creative Portrait, Child, and Family Photographer, talked to us about her work, her work flow, her style, and her passion. On her Website she says, "Life is my Canvas, Light is my paint. Time is measured not by the clock, but by moments. I capture those moments." She shared many images of her family portraits, weddings, and her favorite- children. She is best known for her hazy, interesting background with her subjects as she said, popping out bright and crystal clear. I love that she mentors newbies and shares her love of photography. Really fun presentation. She left us with lots of good ideas and techniques to try. Thank you so much Nicki!!
2017 Dues are due by the end of March. We do many things with our funds including pay rent for our really nice facility, for our Website, refreshments, speakers, small group gatherings, and for social functions we like so much. We need your support to make it a fun and interesting year. It helps so much if you get your dues in on time. Thank you!! We want to make a Directory for members to have. So nice to have email addresses and phone numbers handy.
Next month on April 3rd, 1:00pm, member David Woeller will teach us some things about using the PAINTBRUSH in Lightroom. You have to see this. You'll love what he does and you can do with this LIGHTROOM TOOL. He's going to show us a video he created explaining how he goes about tweaking photos, bringing corners out of the dark, accenting details, lots of really cool tricks to make images pop. And we hope to be able to send you some images you can download, then work on at the meeting with him. If you don't have a Laptop, we'll gather around those who bring one and have fun experimenting. More details closer to the meeting.
In May Tony Sweet is with us. Note the change from our regular day. He'll speak Wednesday, May 3rd, 6:30pm, at the Clubhouse. His topic, "In Camera Creative Effects". This will be amazing and should be shared with every photographer you know. So spread the word please. Talk is free to members ($10 for non-members), $75 fee for an early morning shoot with Tony May 4th. We plan to advertise every way we can and hope to have a really good crowd. Just out of respect for him- a world class photographer who helps us and encourages us as a group, and is generous enough to give us his time and energy, every member should come to his evening talk. Make plans now to be there. It's one way we can say THANK YOU!!
In June Kevin Karlson, wildlife Photographer, particularly birds, will speak to us. His topic, "Shooting Outside the Box". He has a new book out called "Birding by Impression", which discusses his approach to bird/field identification. It should be fun to see his photos and learn what he means by shooting outside the box.
In July we will be celebrating our 10th year anniversary somehow. We had a great time last year at Willow Creek Winery shooting the grapes, then sharing a little food and wine. Something like that, but with less personal expense. I'd like the club to provide food somehow/somewhere. I'm working on it…...
We had 9 people with us on our Shoot in Philly. The Benjamin Franklin Bridge was beautiful that evening! It was quite a climb to the top, but easy walking and safely lighted. What an experience it was to be out there in the wind waiting for the sun to set, tripods ready, all cameras aimed for the skyline, being shaken by the trains as they whizzed by underneath. Really fun. We had dinner at a local pub, then did the full length of the bridge from the ground. Thank you Jim Dixon for arranging all the details and leading the pack. Great time had by ALL!!
Our May shoot to East Point Lighthouse is on hold. They are not sure when the construction crews actually will allow visitors inside and paper work for grants will allow the fence to come down. Not a great thing to include in our photos. We're on the list and we'll see what happens. I'll blast out an email notice when we get the OK.
If you have a chance, visit the River Renaissance Gallery sometime this month. Member David Woeller has several photos in the exhibits. And Scott Wheaton has a couple of his smoke pictures. The topic is "Digital Art". Abstract Art. Really interesting. Check it out this month.
I have a call in to Pam at the Mad Batter trying to set up a date for our Exhibit at the Restaurant. She told me to call in March. I'll keep you posted. We can exhibit at one of the libraries in the Cape May County system if we want to. I'll talk to you about it at our next meeting. We'd need to commit and we'll have to decide if it is something we really want to do.
It has come to our attention that we have quite a few new members and we are wondering if there is a need or desire for us to have a few small group meetings to discuss basic concepts like the Exposure Triangle (IOS, Aperture, Shutter Speed), Composition, etc. We'd need at least 6 to commit to maybe 2/3 meetings. Let me know if you are interested. Email me at dottierogers2@gmail.com. to save a spot. Could be a fun learning experience.
Until next time…..get out and shoot Springtime!! Share your images on our FACEBOOK PAGE! Check out our WEBPAGE!! Send me ideas for shoots, speakers, and topics we need to discuss at our meetings. THANK YOU!!
Dottie
Jan 11th, 2017

2017-Hard to believe. Happy New Year Everyone!
Thank you all for coming to the meeting Monday. We had a good crowd even though weather was a problem. I know it was icy in many places and difficult for some of you to travel. Hopefully February will be better.
Craig Phillips and John Snidenbach took us on a trip to Cuba. As a photographer the question is, why take a trip to Cuba now/soon. Both John and Craig went now to beat the influx of tourists that will hit the island when the Cruise ships start daily tours. And things are bound to change dramatically once that is in full gear. The bright colors of the old buildings most of them in need of a huge amount of repair, the 1958 cars painted bright colors, the friendly people dressed casually and willing to be photographed, and the unique culture make it a photographers' hotspot. Guides help you understand the history and culture, but they also let you know questions are restricted. I loved the doors and windows repaired and painted, the decaying architecture, church, John's night photos, the cigar rolling process, the barns, cars, faces and the dancing. John showed a couple videos with music of a street band and dancing, and a routine some women do using brightly painted chairs and drumsticks. Great fun and unique. THANK YOU JOHN AND CRAIG!! You made me want to go ASAP!
PSA (the Photographic Society of America) representatives were with us as well. Gerie Vergona and Dr. Kah-Wai Lin gave us information about the world wide organization we need to know, but missed the boat as far as I was concerned. So I'll tell you we joined PSA as a club, not because of competition opportunities, but because it is a great source of information and a resource for speakers at a reasonable price, and because it has a "lending library" from which we can borrow videos and material on all sorts of topics related to photography. At a meeting we can show a video on a topic and have a panel discuss it. We can show a video on a topic in small group meetings. And they are a source of support as we grow and explore directions we think we want to take or try. We have at our fingertips experts in every facet of photography, business end and photo information end, and we plan to take advantage of it. They have a national conference each year at really wonderful places. Recently in Albuquerque and the Balloon Fiesta, and Yosemite. This year it is in Pittsburgh. We'll talk about attending when the flyer comes out. Most clubs belong to PSA. Now we're on their map. Now as an individual since we don't hold competitions, if you are interested in advice, critiques, a mentor, many areas of competition on an individual level, an individual membership can might be a good idea for you. They gave a really nice book of photographs out for a door prize. John Marcelliano was the winner.
I gave out cash to the people who sold photographs at the Mad Batter Exhibit. Karen Goldberg and James Daubert sold 2 each, Sandy Allison and Tina Giaimo each sold 1. We discussed that effort because for those who participate and help set up and take down, and replacing what is sold, it is a big job. This year in December we sold 6. Last year in September, we sold 14. We need to have a committee that is interested in studying the situation and exploring options. And we need to educate ourselves on the complexities involved. Last Spring we had a few volunteers for such a committee. (Denise Bongiovanni, Melissa Bailey, Gail Van Scoyk and myself). I'll contact a few more and get this ball rolling. Email me if you want to be part of this committee. Thank you!
We are looking into becoming a non-profit organization. I asked Craig Phillips to help me and John Marcelliano said he'd help. It may or may not be to our advantage. We'll keep you informed.
Dues are due for 2017 by the first of March. Can send to me (Dottie Rogers, 201 South Broadway, CM, 08204- check made out to Photography Club of Cape May). $30 for an individual membership, $50 for family. We plan to run off a Directory for members this year. We've run into situations this year where someone wants to call another member but has no phone number. It is handy for car pools, sharing information, answering quick questions, asking for help, inviting others on a shoot, etc. It's so nice to have at your fingertips address, email address, phone number. Let me know if you do not want you phone number included. Most organizations have a directory.
Small group meeting January 25th at 201 South Broadway, 6;30pm, Lightroom workshop
Next meeting at the clubhouse: February 6th Macro Workshop-1 to 4:00pm
Small Group Meeting 3rd Weds: February 15, 6:30pm Macro Workshop follow Up
For our February meeting we will have lots of stations set up with marbles, colored straws, flowers, bubbles, witches ball or 2, glass container with water, old tools, kitchen utensils, a Lava Light, Big Bottle we can probably put things in and small ones, sea glass, sand a shells, berries, grapes, etc. We'll rotate around. I'll have several backdrops and at least 1 Lightbox. I'll try to get a couple more.
BRING YOUR TRIPOD AND APPROPRIATE LENS, and A FLASHLIGHT ANY SIZE.
You do not have to have a Macro Lens to do this. Karen Messick took (takes) pictures with her iPhone that are outstanding because you can zoom in close. Come and join in the fun the best you can, experiment, have fun watching.
At our December meeting someone put a note in our suggestion box for a shoot in New York City, a couple specific places, evening. We're considering an overnight in the Spring. Ed and Cindy Russell have given us some advice. And a shoot at Longwood Gardens has been suggested. We'd carpool, not get a bus. Anyone interested?
I think that's about it…….
Dottie
Dec 7th, 2016
We had such a good time Monday being creative and socializing. Diane Supple sent pictures she snapped with her iPhone that I thought you would enjoy. Thank you, Diane! It was REALLY, REALLY fun. Good refreshments, too.Thank you to those who brought a snack! Thank you Melissa for thinking to microwave the sand! You saved the day! We keep saying, what a great bunch of people we have in PCCM. Wow! We have to do this kind of thing again!
HEADS UP!!! WE HANG AT THE MAD BATTER THIS THURSDAY, DECEMBER 8TH, AT 12:00 NOON.
WE COULD USE SOME HELP. MELISSA BAILEY AND JOHN MARCELLIANO HAVE VOLUNTEERED. NEED MORE HANDS, PLEASE!
(We have a nice amount of really, really beautiful photos so far. This will be exciting exhibit to see.)
OUR OPENING IS SUNDAY, DECEMBER 11TH AT 3:00. PLEASE LET'S MAKE THIS FUN. THEY ALWAYS HAVE A NICE SPREAD OF FOOD FOR US. SO INVITE YOUR FRIENDS AND NEIGHBORS. WE SHOULD CELEBRATE. WE HAVE A LOT TO BE PROUD OF AND SHARE. SEE YOU AT THE OPENING! (you don't have to dress up- very casual!
HEADS UP!! WE WILL SHOOT THE LIGHTS OF CAPE MAY WEDS. DECEMBER 14TH. MEET AT ROTARY PARK (the one they have completely redone) AT 4:30. NEW BLUE AND PURPLE DECORATIONS AND WHOLE NEW LOOK THERE. AND WE'LL MEET AT MY HOUSE AFTERWARD FOR LIGHT REFRESHMENTS— wine and cheese plus I'm thinking sandwiches maybe or we'll order pizza…. Fun night! Please join us.
Next meeting, January 9th, John Snidenbach and Craig Phillips will share pictures and thoughts from a photographer's viewpoint about Cuba.
Please bookmark or add the club website to your contacts. There is no signup or registration. We're trying to keep our calendar and blog current so send let us know if you spot errors or omissions. You can email the club right from a link on the page. Hopefully this will eventually be your one stop spot on the web for club info as well as a place to view members' photos, read news and learn and leave tips and point to good deals you want to share.
CALLING FOR PICTURES! Please send pictures for our website NOW to Jim Brennan . We want to change them often. Let's just say the first week of every month, if you want to post pictures send them to Jim and he'll put them up. We'll eventually create individual member galleries if the interest is there. And we want to make our Blog interesting and worth seeking out. If you have anything about photography you want to share or an experience you have that is photographically interesting, equipment you've tried and like, techniques you try and find slick or cool, send a paragraph or write up to me and I'll include it or send it to Bob Finlay to put up. Don't be shy or humble. Be bold and help our membership learn and improve! We can communicate to each other through our BLOG. So keep checking it out. We're learning and improving the site each month.
Please Help Us Do That.
And we still need a LOGO. Only have one so far, and an idea but not picture for another. We need several to make a choice. Maybe we push that in 2017…...
Welcome two new members, John and Madeleine Tryon!
Happy Holidays!!
-Dottie
Nov 9th, 2016
Hello this morning after Election Day. I don't know about you, but I lost a whole night's sleep! So excuse my mistakes!! God Bless America, right?? Crazy, crazy……
We had a really good turn out for our meeting Monday with Eric Weeks and Karen Michael. They talked about the Flash and showed us their technique. It was very informative and fun!! I'll have to try the two hands shots. I'm not so steady as they seem to be. Good handout for anyone who wants one. Lots of information you might like to see.
A few quick points to remember:
The f stop controls the flash exposure.
The shutterspeed determines the exposure.
Most cameras Flash at 1/250.
They like to use their flash unattached to the camera, pointing the light head to bounce off a wall or ceiling.
There are several Lighting Patterns and Types of Light they talked about Plus lots more!
Thank You Eric and Karen!! Lots of Fun!
We had refreshments after the meeting and a good social time. Hoping to figure out how to do that each meeting. Really nice!!
Important Business Items for you to Remember:
We hang at the MAD BATTER December 8th. 1:00pm We can use help with that task! I will assume there is an Opening the 11th. Usually 4:00pm. (Refreshments and social time for our club members and friends- a celebration!)
Remember Photos must be 8x10 or larger. MUST be matted white/off white and framed, and ready to hang with wire. Black frames in the bar area, white/off white frames in the back restaurant room. Silver or canvass works as well. We need a bunch, so please participate if you can. Photos must be brought to 201 South Broadway, CM, by noon Wednesday Dec 7th, so I can make identification cards and print up a list for Pam to keep in the office. She needs to keep organized since we are different from most shows because we have many artists, making bookkeeping complex. WEDS. DEC.7TH, by NOON!!
No word yet about the Winery.
On December 5th we are going to have a party!‼︎ We have worked very hard this last several months with the Webpage construction, Sturdy Bank Exhibit, the Mad Batter Exhibit, joining PSA and setting up our Sturdy Bank account. Very time consuming and brain rattling. So we figure we deserve to have a party! We will have 3 Make and Take projects to work on and a techie try by request and vote on a Club Logo. I have 2 ideas for Logos so far. Think about it and email me your entry if you think of something eye catching. Free membership for a year as a prize. Sooooo, Bring a snack if you can and come socialize and be creative. If you are not creative, bring a friend/spouse who can help you! You will need to bring at least 4 4x6 pictures you love with you for the activities planned. More details closer to the meeting. This will be fun!
Meetings Scheduled for the next 6 months. We have some great speakers coming and plenty of opportunity to hone your skills and learn something new. Small group meetings will be made as we go through each month. Plan on the 3rd Weds. evening each month for small group events.
Check back here on our Website Blog for chatty details. We have a busy and exciting Spring "Semester". Please keep club email announcements handy. Mark your calendar, and watch for small group events and SHOOTS. And check our Website Upcoming Events for details as each events gets close.
Please let Bob Finlay or me or Jim Brennan know things you want to discuss or programs you would like to have, or people you see or know about who could talk to our club or give seminars or workshops. If you express a need or topic, we do try to find someone to help out.
Thanks everyone for your help when we need it and support!
Dottie
We have joined PSA, the Photographic Society of America, which is a worldwide organization for anyone with an interest in photography. Every organization belongs, now we are on the list! We'l benefit many ways. A member will come to an upcoming meeting and welcome us and inform us of all the ways you can gain access and benefits. Check it out at Photographic Society of America.
We are having a contest!! We need a LOGO, for our website, but in general. Prize is one year membership to our club. Must include PCCM and Cape May some way. Look up other clubs online and see examples. Send entries to dottierogers2@gmail.com. We'll vote and choose at a meeting very at the December meeting.
Dottie is proposing our club take a week to 10 day trip to New Mexico this time next year 2017 to take in the Balloon Fiesta, Albuquerque, Santa Fe, Taos, Ghost Ranch, and sights in between. This is not an expensive trip, but a major undertaking for our group. If anyone is interesting in exploring the idea, please attend a meeting, at Dottie's house October 19th at 6:30 to discuss details. New Mexico is a photographers delight. This would be a photography trip not sight seeing event.
—Dottie